KFC Big Bash League also popular as BBL, is a twenty20 cricket event plays in Australia in December-January. First edition of championship was played in 2011. Since then five Big Bash tournaments have been concluded and sixth season is all set to kick off from December 20, 2016.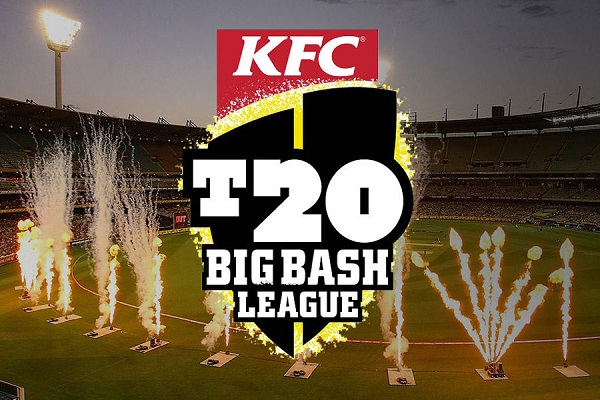 The opening match of 2016-17 Big Bash League is scheduled to play between Sydney Thunder and Sydney Sixers at Spotless Stadium from 19:40 local time. A total of 35 matches will be played in the tournament in which Sydney Thunder is the title defending champion.
Semi-Finals of BBBL-06 will be played on 24 and 25 January 2017 meanwhile final is scheduled to play on 28 January. Let's have a look at the full schedule of Big Bash League 2016-17 season.
BBL|06 Schedule, Fixtures, Time Table
| | | | | |
| --- | --- | --- | --- | --- |
| Date | Time | Match | Fixture | Venue |
| 20 December | 19:40 | Match 1 | Sydney Thunder vs Sydney Sixers | Spotless Stadium |
| 21 December | 19:10 | Match 2 | Adelaide Strikers vs Brisbane Heat | Adelaide Oval |
| 22 December | 19:40 | Match 3 | Melbourne Renegades vs Sydney Thunder | Etihad Stadium |
| 23 December | 18:10 | Match 4 | Sydney Sixers vs Hobart Hurricanes | SCG |
| 23 December | 18:15 | Match 5 | Perth Scorchers vs Adelaide Strikers | WACA |
| 26 December | 19:10 | Match 6 | Hobart Hurricanes vs Melbourne Stars | Blundstone Arena |
| 27 December | 19:10 | Match 7 | Sydney Sixers vs Perth Scorchers | SCG |
| 28 December | 19:10 | Match 8 | Sydney Thunder vs Brisbane Heat | Spotless Stadium |
| 29 December | 19:10 | Match 9 | Melbourne Renegades vs Perth Scorchers | Etihad Stadium |
| 30 December | 18:10 | Match 10 | Brisbane Heat vs Hobart Hurricanes | Gabba |
| 31 December | 18:40 | Match 11 | Adelaide Strikers vs Sydney Sixers | Adelaide Oval |
| 1 January | 18:10 | Match 12 | Melbourne Stars vs Melbourne Renegades | MCG |
| 1 January | 18:15 | Match 13 | Perth Scorchers vs Sydney Thunder | WACA |
| 2 January | 19:10 | Match 14 | Hobart Hurricanes vs Adelaide Strikers | Blundstone Arena |
| 3 January | 18:10 | Match 15 | Brisbane Heat vs Sydney Sixers | Gabba |
| 4 January | 19:10 | Match 16 | Sydney Thunder vs Melbourne Stars | Spotless Stadium |
| 5 January | 16:10 | Match 17 | Perth Scorchers vs Brisbane Heat | WACA |
| 6 January | 18:40 | Match 18 | Adelaide Strikers vs Hobart Hurricanes | Adelaide Oval |
| 7 January | 19:10 | Match 19 | Melbourne Renegades vs Melbourne Stars | Etihad Stadium |
| 8 January | 19:10 | Match 20 | Hobart Hurricanes vs Sydney Thunder | Blundstone Arena |
| 9 January | 19:40 | Match 21 | Sydney Sixers vs Melbourne Renegades | SCG |
| 10 January | 19:40 | Match 22 | Melbourne Stars vs Adelaide Strikers | MCG |
| 11 January | 18:40 | Match 23 | Brisbane Heat vs Perth Scorchers | Gabba |
| 12 January | 19:40 | Match 24 | Melbourne Renegades vs Hobart Hurricanes | Etihad Stadium |
| 14 January | 18:10 | Match 25 | Sydney Sixers vs Sydney Thunder | SCG |
| 14 January | 18:15 | Match 26 | Perth Scorchers vs Melbourne Stars | WACA |
| 16 January | 19:10 | Match 27 | Adelaide Strikers vs Melbourne Renegades | Adelaide Oval |
| 17 January | 19:40 | Match 28 | Melbourne Stars vs Brisbane Heat | MCG |
| 18 January | 19:40 | Match 29 | Sydney Thunder vs Adelaide Strikers | Spotless Stadium |
| 20 January | 18:40 | Match 30 | Brisbane Heat vs Melbourne Renegades | Gabba |
| 21 January | 16:20 | Match 31 | Hobart Hurricanes vs Perth Scorchers | Blundstone Arena |
| 21 January | 19:25 | Match 32 | Melbourne Stars vs Sydney Sixers | MCG |
| 24 January | 16:40 | Match 33 | Semi-Final 1: Perth Scorchers vs Melbourne Stars | WACA |
| 25 January | 18:40 | Match 34 | Semi-Final 2: Brisbane Heat vs Sydney Sixers | Gabba |
| 28 January | 16:15 | Match 35 | Final: Perth Scorchers vs Sydney Sixers | WACA |