A century in the game of cricket is scoring hundred or more runs by a player in a single innings. In test and ODI matches there is much time for the batsman to score a century but scoring a ton in t20 game, is not an easy task. But there are several destructive batsmen who have scored the centuries in Twenty20 internationals over the years.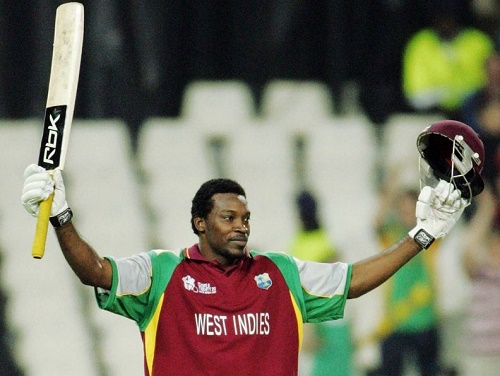 The first batsman to score the hundred in twenty20 internationals is West Indies cricketer Chris Gayle who smashed 117 runs in 57 balls against South Africa at Johannesburg in 2007.
Australia's Aaron Finch is the highest run scorer in a single twenty20 match. He smashed 156 runs in 63 balls against England at Southampton in 2013. Let's have a look at the complete list of centuries in T20 internationals.
Indian cricketer Rohit Sharma became first cricketer to score four T20I hundreds as he made 111 not out against West Indies on 6th November 2018 in Lucknow.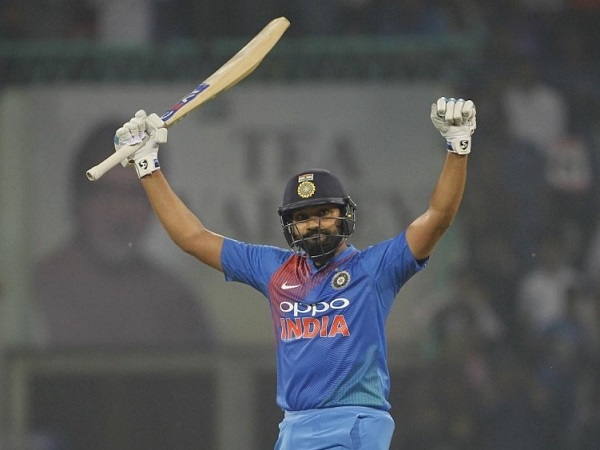 T20I centuries
List centuries are arranged in top to bottom order from latest to first.
| | | | | | | | | |
| --- | --- | --- | --- | --- | --- | --- | --- | --- |
| Date | Player | Runs | Balls | 4s | 6s | S.R. | Versus | Venue |
| 27 October 2019 | David Warner (Australia) | 100* | 56 | 10 | 4 | 178.57 | Sri Lanka | Adelaide |
| 20 October 2019 | Sabawoon Davizi (Czech Republic) | 101 | 68 | 6 | 7 | 148.52 | Malta | Marsa |
| 14 October 2019 | Adrian Dunar (Serbia) | 104* | – | – | – | – | Bulgaria | Corfu |
| 7 October 2019 | Kevin O'Brien (Ireland) | 124 | 62 | 12 | 7 | 200.00 | Hong Kong | Muscat |
| 2 October 2019 | Patrick Matautaava (Vanuatu) | 103 | 52 | 9 | 7 | 198.07 | Malaysia | Kuala Lumpur |
| 28 September 2019 | Paras Khadka (Nepal) | 106* | 52 | 7 | 9 | 203.84 | Singapore | Singapore |
| 16 September 2019 | George Munsey (Scotland) | 127* | 56 | 5 | 14 | 226.78 | Netherlands | Dublin |
| 1 September 2019 | Bilal Zalmai (Austria) | 111* | 58 | 9 | 7 | 191.37 | Czech Republic | Ilfov County |
| 30 August 2019 | Sudesh Wickramasekara (Czech Republic) | 104* | 36 | 8 | 10 | 288.88 | Turkey | Ilfov County |
| 29 August 2019 | Sivakumar Periyalwar (Romania) | 105* | 40 | 12 | 6 | 262.50 | Turkey | Ilfov County |
| 20 August 2019 | Jean-Pierre Kotze (Namibia) | 101* | 43 | 7 | 9 | 234.88 | Botswana | Windhoek |
| 18 August 2019 | Ravinderpal Singh (CAN) | 101 | 48 | 6 | 10 | 210.41 | Cayman Islands | Sandys Parish |
| 30 March 2019 | Awais Ahmed (Spain) | 102* | 64 | 5 | 6 | 159.37 | Malta | Cartagena |
| 23 March 2019 | Tony Ura (PNG) | 107* | 60 | 4 | 6 | 178.33 | Philippines | Port Moresby |
| 27 February 2019 | Glenn Maxwell (AUS) | 113* | 55 | 7 | 9 | 205.45 | India | Bengaluru |
| 23 February 2019 | Hazratullah Zazai (AFG) | 162* | 62 | 11 | 16 | 261.29 | Ireland | Dehradun |
| 23 January 2019 | Ravija Sandaruwan (Kuwait) | 103 | 59 | 10 | 5 | 174.57 | Bahrain | Muscat |
| 6 November 2018 | Rohit Sharma (IND) | 111* | 61 | 8 | 7 | 181.96 | West Indies | Lucknow |
| 8 July 2018 | Rohit Sharma (IND) | 100* | 56 | 11 | 5 | 178.57 | England | Bristol |
| 3 July 2018 | KL Rahul (IND) | 101* | 54 | 10 | 5 | 187.03 | England | Manchester |
| 3 July 2018 | Aaron Finch (AUS) | 172 | 76 | 16 | 10 | 226.31 | Zmbabwe | Harare |
| 16 February 2018 | Martin Guptill (NZ) | 105 | 54 | 6 | 9 | 194.44 | Australia | Auckland |
| 7 February 2018 |  Glenn Maxwell (AUS) | 103* | 58 | 10 | 4 | 177.58 | England | Hobart |
| 3 January 2018 | Colin Munro (NZ) | 104 | 53 | 3 | 10 | 196.22 | West Indies | Bay Oval |
| 22 December 2017 | Rohit Sharma (IND) | 118 | 43 | 12 | 10 | 274.41 | Sri Lanka | Indore |
| 4 November 2017 | Colin Munro (NZ) | 109* | 58 | 7 | 7 | 187.93 | India | Rajkot |
| 29 October 2017 | David Miller (SA) | 101* | 36 | 7 | 9 | 280.55 | Bangladesh | Senwes Park |
| 9 July 2017 | Evin Lewis (WI) | 125* | 62 | 6 | 12 | 201.61 | India | Sabina Park |
| 14 April 2017 | Shaiman Anwar (UAE) | 117* | 68 | 10 | 6 | 172.05 | Papua New Guinea | Abu Dhabi |
| 6 January 2017 | Colin Munro (NZ) | 101 | 54 | 7 | 7 | 187.03 | Bangladesh | Mount Maunganui |
| 6 September 2016 | Glenn Maxwell (AUS) | 145* | 65 | 14 | 9 | 223.08 | Sri Lanka | Kandy |
| 27 August 2016 | KL Rahul (IND) | 110* | 51 | 12 | 5 | 215.68 | West Indies | Lauderhill |
| 27 August 2016 | Evin Lewis (WI) | 100 | 49 | 5 | 9 | 204.08 | India | Lauderhill |
| 16 March 2016 | Chris Gayle (WI) | 100* | 48 | 5 | 11 | 208.33 | England | Mumbai |
| 13 March 2016 | Tamim Iqbal (BAN) | 103* | 63 | 10 | 5 | 163.49 | Oman | Dharamsala |
| 19 February 2016 | Babar Hayat (HK) | 122 | 60 | 9 | 7 | 203.33 | Oman | Fatullah |
| 31 January 2016 | Shane Watson (AUS) | 124* | 71 | 10 | 6 | 174.64 | India | Sydney |
| 10 January 2016 | Mohammad Shahzad (AFG) | 118* | 67 | 10 | 8 | 176.11 | Zimbabwe | Sharjah |
| 2 October 2015 | Rohit Sharma (IND) | 106 | 66 | 12 | 5 | 160.00 | South Africa | Dharamshala |
| 14 January 2015 | Morne van Wyk (SA) | 114* | 70 | 9 | 7 | 162.85 | West Indies | Durban |
| 11 January 2015 | Faf du Plessis (SA) | 119 | 56 | 11 | 5 | 212.50 | West Indies | Johannesburg |
| 30 March 2014 | Ahmed Shehzad (PAK) | 111* | 62 | 10 | 5 | 179.03 | Bangladesh | Dhaka |
| 27 March 2014 | Alex Hales (ENG) | 116* | 64 | 11 | 6 | 181.25 | Sri Lanka | Chittagong |
| 29 August 2013 | Aaron Finch (AUS) | 156 | 63 | 11 | 14 | 247.61 | England | Southampton |
| 23 December 2012 | Martin Guptill (NZ) | 101* | 69 | 9 | 6 | 146.37 | South Africa | East London |
| 21 September 2012 | Brendon McCullum (NZ) | 123 | 58 | 11 | 7 | 212.06 | Bangladesh | Kandy |
| 24 July 2012 | Richie Berrington (SCOT) | 100 | 58 | 10 | 5 | 172.41 | Bangladesh | Voorburg |
| 19 February 2012 | Richard Levi (SA) | 117* | 51 | 5 | 13 | 229.41 | New Zealand | Hamilton |
| 6 August 2011 | Tillakaratne Dilshan (SL) | 104* | 57 | 12 | 5 | 182.45 | Australia | Kandy |
| 3 May 2010 | Mahela Jayawardene (SL) | 100 | 64 | 10 | 4 | 156.25 | Zimbabwe | Providence |
| 2 May 2010 | Suresh Raina (IND) | 101 | 60 | 9 | 5 | 168.33 | South Africa | Gros Islet |
| 28 February 2010 | Brendon McCullum (NZ) | 116* | 56 | 12 | 8 | 207.14 | Australia | Christchurch |
| 11 September 2007 | Chris Gayle (WI) | 117 | 57 | 7 | 10 | 205.26 | South Africa | Johannesburg |
Related