T20 Cricket or twenty20 cricket or 20-20 cricket is the shortest form of cricket sport which is played all over the world. Two teams face-off each other in a complete 40 overs t20 match and each team is permitted to play a maximum of 20 overs.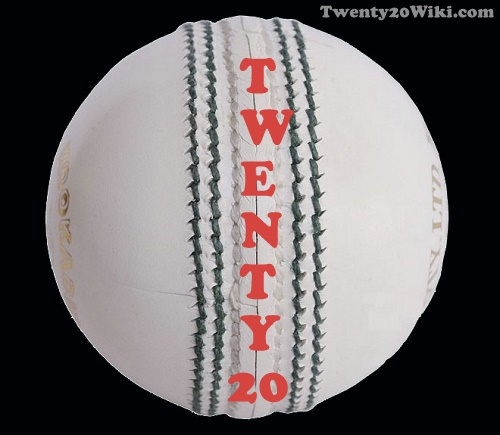 England and Wales Cricket Board initiated such kind of format back in 2003 in domestic tournament inter-county. First twenty20 international cricket match was played between Australia and New Zealand in 2005. The shortest format of the game gets popular quickly and cricket's governing council International Cricket Council (ICC) introduced T20 championship.
ICC introduced ICC World Twenty20 championship now known as t20 world cup whose first edition was hosted by South Africa in 2007. India won the inaugural edition of ICC World T20 by defeating arch rivals Pakistan in the final by 5 runs. Since then five editions of prestigious event have been organized successfully and sixth T20 world cup is scheduled to be hosted in India in 2016.
T20 Match Format
A typical twenty20 match completes in 3 hours. The time duration for the completion of one inning in the match is 75 to 90 minutes.
In an uninterrupted T20 match a bowler can bowl a maximum of 4 overs as one team can play max to max 20 overs. If the match is interrupted and delayed due to any reason, each bowler will be able to bowl only one-fifth of the total overs in the innings.
The first six-overs in a 20 over inning are reserved for powerplay. Powerplay is a fielding restriction in limited overs game and in Twenty20s, only two players can be put outside the 20-yeard circle by fielding team.
After completion of six overs, maximum five fielders can be put outside the 30-yard circle.
A maximum of 5 players can field on the leg-side at any time in match after powerplay.
To make the game more interesting and exciting, ICC introduced one more rule to this format as if a bowler bowls a No-Ball then batting team will be awarded one run and the next ball will be free-hit. On the free-hit ball, batsman can't be dismissed except he gets run-out, obstructing the field, hitting the ball twice or handling the ball.
If a match ends at draw or tie, Super Over comes into play to decide the winner of match. In Super-Over, each team nominates three batsmen and one bowler to play one-over 'mini match'. The team who bats second in the match, does bat first in super-over.
Initially the tied matches were decided by the Bowl-Out.
International debut of Teams in T20
The first Twenty20 international match was played on 17 February in 2005 between Australia and New Zealand. Hence New Zealand and Australia are the first two teams to make debut in T20 internationals. Since then 21 teams have made debut and played at least one 20-20 match. Let's have a look at the countries who have appeared in a T20 game.
| | |
| --- | --- |
| Country | T20I Debut Date |
| Australia | 17 February, 2005 |
| New Zealand | 17 February, 2005 |
| England | 13 June, 2005 |
| South Africa | 21 October, 2005 |
| West Indies | 16 February, 2006 |
| Sri Lanka | 15 June, 2006 |
| Pakistan | 28 August, 2006 |
| Bangladesh | 28 November, 2006 |
| Zimbabwe | 28 November, 2006 |
| India | 1 December, 2006 |
| Kenya | 1 September, 2007 |
| Scotland | 12 September, 2007 |
| Netherlands | 2 August, 2008 |
| Ireland | 2 August, 2008 |
| Canada | 2 August, 2008 |
| Bermuda | 3 August, 2008 |
| Afghanistan | 2 February, 2010 |
| Nepal | 16 March, 2014 |
| Hong Kong | 16 March, 2014 |
| United Arab Emirates | 17 March, 2014 |
| Oman | 25 July, 2015 |
Major Twenty20 Tournaments
ICC T20 World Cup (World Twenty20 Previously)
Indian Premier League
Big Bash League
Natwest T20 Blast
Caribbean Premier League
Pakistan Super League
Mzansi Super League
Bangladesh Premier League
Afghanistan Premier League
Nepal Premier League
Ram Slam T20 Challenge
Sri Lanka Premier League
HRV Cup