The 13th edition of Vivo Indian Premier League will be played in UAE from 19th September. Originally tournament was scheduled to kick off on 29th March but due to COVID-19 spread, IPL 2020 was postponed. Mumbai Indians are the title defending champions and they'll be playing the opening match of tournament against Chennai Super Kings on September 19.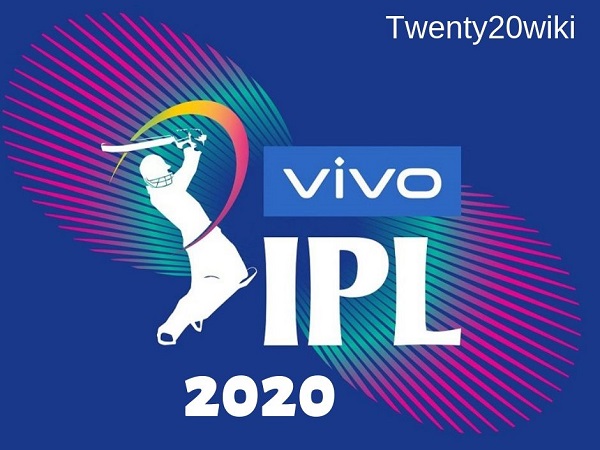 56 league stage matches schedule was released by IPL governing council. Knockout stage will be announced in due course meanwhile Vivo Indian Premier League 2020 final scheduled for 10th November.
Let's have a look at the complete schedule of IPL-13.
Fixtures of IPL 2020
19 September: Mumbai Indians vs Chennai Super Kings, Abu Dhabi
20 September: Delhi Capitals vs Kings XI  Punjab, Dubai
21 September: Sunrisers Hyderabad vs Royal Challengers Bangalore, Dubai
22 September: Rajasthan Royals vs Chennai Super Kings, Sharjah
23 September: Kolkata Knight Riders vs Mumbai Indians, Abu Dhabi
24 September: Kings XI Punjab vs Royal Challengers Bangalore, Dubai
25 September: Chennai Super Kings vs Delhi Capitals, Dubai
26 September: Kolkata Knight Riders vs Sunrisers Hyderabad, Abu Dhabi
27 September: Rajasthan Royals vs Kings XI Punjab, Sharjah
28 September: Royal Challengers Bangalore vs Mumbai Indians, Dubai
29 September: Delhi Capitals vs Sunrisers Hyderabad, Abu Dhabi
30 September: Rajasthan Royals vs Kolkata Knight Riders, Dubai
1 October: Kings XI Punjab vs Mumbai Indians, Abu Dhabi
2 October: Chennai Super Kings vs Sunrisers Hyderabad, Dubai
3 October: Royal Challengers Bangalore vs Rajasthan Royals, Abu Dhabi
3 October: Delhi Capitals vs Kolkata Knight Riders, Sharjah
4 October: Mumbai Indians vs Sunrisers Hyderabad, Sharjah
4 October: Kings XI Punjab vs Chennai Super Kings, Dubai
5 October: Royal Challengers Bangalore vs Delhi Capitals
6 October: Mumbai Indians vs Rajasthan Royals, Abu Dhabi
7 October: Kolkata Knight Riders vs Chennai Super Kings, Abu Dhabi
8 October: Sunrisers Hyderabad vs Kings XI Punjab, Dubai
9 October: Rajasthan Royals vs Delhi  Capitals, Sharjah
10 October: Kings XI Punjab vs Kolkata  Knight Riders, Abu Dhabi
10 October: Chennai Super Kings vs Royal  Challengers Bangalore, Dubai
11 October: Sunrisers Hyderabad vs  Rajasthan Royals, Dubai
11 October: Mumbai Indians vs Delhi  Capitals, Abu Dhabi
12 October: Royal Challengers Bangalore vs  Kolkata Knight Riders, Sharjah
13 October: Sunrisers Hyderabad vs Chennai Super Kings, Dubai
14 October: Delhi Capitals vs Rajasthan Royals, Dubai
15 October: Royal Challengers Bangalore vs Kings XI Punjab, Sharjah
16 October: Mumbai Indians vs Kolkata  Knight Riders, Abu Dhabi
17 October: Rajasthan Royals vs Royal  Challengers Bangalore, Dubai
17 October: Delhi Capitals vs Chennai Super Kings, Sharjah
18 October: Sunrisers Hyderabad vs Kolkata  Knight Riders, Abu Dhabi
18 October: Mumbai Indians vs Kings XI  Punjab, Dubai
19 October: Chennai Super Kings vs Rajasthan Royals, Abu Dhabi
20 October: Kings XI Punjab vs Delhi  Capitals, Dubai
21 October: Kolkata Knight Riders vs Royal Challengers Bangalore, Abu Dhabi
22 October: Rajasthan Royals vs Sunrisers Hyderabad, Dubai
23 October: Chennai Super Kings vs Mumbai Indians, Sharjah
24 October: Kolkata Knight Riders vs Delhi Capitals, Abu Dhabi
24 October: Kings XI Punjab vs Sunrisers Hyderabad, Dubai
25 October: Royal Challengers Bangalore vs Chennai Super Kings, Dubai
25 October: Rajasthan Royals vs Mumbai Indians, Abu Dhabi
26 October: Kolkata Knight Riders vs Kings XI Punjab, Sharjah
27 October: Sunrisers Hyderabad vs Delhi Capitals, Dubai
28 October: Mumbai Indians vs Royal Challengers Bangalore, Abu Dhabi
29 October: Chennai Super Kings vs Kolkata Knight Riders, Dubai
30 October: Kings XI Punjab vs Rajasthan Royals, Abu Dhabi
31 October: Delhi Capitals vs Mumbai Indians, Dubai
31 October: Royal Challengers Bangalore vs Sunrisers Hyderabad, Sharjah
1 November: Chennai Super Kings vs Kings XI Punjab, Abu Dhabi
1 November: Kolkata Knight Riders vs Rajasthan Royals, Dubai
2 November: Delhi Capitals vs Royal Challengers Bangalore, Abu Dhabi
3 November: Sunrisers Hyderabad vs Mumbai Indians, Sharjah
10 November: IPL 2020 final