The ninth edition of IPL Twenty20 championship is kicking off on Saturday with an opening match between Mumbai Indians and Rising Pune Supergiants. Wankhede Stadium in Mumbai will host title defending champions Mumbai's first match on 9 April. The live coverage and broadcast of Vivo Indian Premier League 2016 can be watched online from 9 April to 29 May as several broadcasting networks to air live match.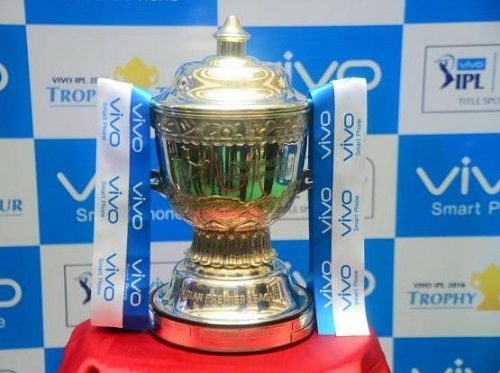 IPL 9 Live Streaming
India based viewers can watch live streaming of IPL 2016 matches on their mobiles and tablets through Hotstar app. Sonyliv.com will not be streaming live games online for this season. Star Sport and Hot Star to provide match highlights and video clips throughout the competition. Sony ESPN/HD, Sony Six/HD and Set Max to televised live IPL 2016 games.
Indian Premier League T20 cricket fans in United Kingdom, will be able to watch live telecast of 2016 edition matches on Sky Sports 2 and Sky Sports 2 HD. The live streaming will be aired live on Sky Watch.
United States based viewers can catch live action online on ESPN.
Have a look at the complete fixtures and time table of all 60 matches in IPL-9.
IPL 2016 Fixtures
Match 1: Mumbai Indians vs Rising Pune Supergiants
Date (Time): 9 April (20:00 IST/15:30 BST)
Venue: Wankhede Stadium, Mumbai
Match 2: Kolkata Knight Riders vs Gujarat Lions
Date (Time): 10 April (20:00 IST/15:30 BST)
Venue: Eden Gardens, Kolkata
Match 3: Kings XI Punjab vs Gujarat Lions
Date (Time): 11 April (20:00 IST/15:30 BST)
Venue: PCA, Mohali
Match 4: Royal Challengers Bangalore vs Sunrisers Hyderabad
Date (Time): 12 April (20:00 IST/15:30 BST)
Venue: M. Chinnaswamy Stadium, Bengaluru
Match 5: Kolkata Knight Riders vs Mumbai Indians
Date (Time): 13 April (20:00 IST/15:30 BST)
Venue: Eden Gardens, Kolkata
Match 6: Gujarat Lions vs Rising Pune Supergiants
Date (Time): 14 April (20:00 IST/15:30 BST)
Venue: Saurashtra Cricket Association Stadium, Rajkot
Match 7: Delhi Daredevils vs Kings XI Punjab
Date (Time): 15 April (20:00 IST/15:30 BST)
Venue: Ferozeshah Kotla, Delhi
Match 8: Sunrisers Hyderabad vs Kolkata Knight Riders
Date (Time): 16 April (16:00 IST/11:30 BST)
Venue: Rajiv Gandhi International Cricket Stadium, Hyderabad
Match 9: Mumbai Indians vs Gujarat Lions
Date (Time): 16 April (20:00 IST/15:30 BST)
Venue: Wankhede Stadium, Mumbai
Match 10: Kings XI Punjab vs Rising Pune Supergiants
Date (Time): 17 April (16:00 IST/11:30 BST)
Venue: Punjab Cricket Association Stadium, Mohali
Match 11: Royal Challengers Bangalore vs Delhi Daredevils
Date (Time): 17 April (20:00 IST/15:30 BST)
Venue: M. Chinnaswamy Stadium, Bengaluru
Match 12: Sunrisers Hyderabad vs Mumbai Indians
Date (Time): 18 April (20:00 IST/15:30 BST)
Venue: Rajiv Gandhi International Cricket Stadium, Hyderabad
Match 13: Kings XI Punjab vs Kolkata Knight Riders
Date (Time): 19 April (20:00 IST/15:30 BST)
Venue: Punjab Cricket Association Stadium, Mohali
Match 14: Mumbai Indians vs Royal Challengers Bangalore
Date (Time): 20 April (20:00 IST/15:30 BST)
Venue: Wankhede Stadium, Mumbai
Match 15: Gujarat Lions vs Sunrisers Hyderabad
Date (Time): 21 April (20:00 IST/15:30 BST)
Venue: Saurashtra Cricket Association Stadium, Rajkot
Match 16: Rising Pune Supergiants vs Royal Challengers Bangalore
Date (Time): 22 April (20:00 IST/15:30 BST)
Venue: MCA International Stadium, Pune
Match 17: Delhi Daredevils vs Mumbai Indians
Date (Time): 23 April (16:00 IST/11:30 BST)
Venue: Ferozeshah Kotla, Delhi
Match 18: Sunrisers Hyderabad vs Kings XI Punjab
Date (Time): 23 April (20:00 IST/15:30 BST)
Venue: Rajiv Gandhi International Cricket Stadium, Hyderabad
Match 19: Gujarat Lions vs Royal Challengers Bangalore
Date (Time): 24 April (16:00 IST/11:30 BST)
Venue: Saurashtra Cricket Association Stadium, Rajkot
Match 20: Rising Pune Supergiants vs Kolkata Knight Riders
Date (Time): 24 April (20:00 IST/15:30 BST)
Venue: MCA International Stadium, Pune
Match 21: Kings XI Punjab vs Mumbai Indians
Date (Time): 25 April (20:00 IST/15:30 BST)
Venue: Punjab Cricket Association Stadium, Mohali
Match 22: Sunrisers Hyderabad vs Rising Pune Supergiants
Date (Time): 26 April (20:00 IST/15:30 BST)
Venue: Rajiv Gandhi International Cricket Stadium, Hyderabad
Match 23: Delhi Daredevils vs Gujarat Lions
Date (Time): 27 April (20:00 IST/15:30 BST)
Venue: Ferozeshah Kotla, Delhi
Match 24: Mumbai Indians vs Kolkata Knight Riders
Date (Time): 28 April (20:00 IST/15:30 BST)
Venue: Wankhede Stadium, Mumbai
Match 25: Rising Pune Supergiants vs Gujarat Lions
Date (Time): 29 April (20:00 IST/15:30 BST)
Venue: MCA International Stadium, Pune
Match 26: Delhi Daredevils vs Kolkata Knight Riders
Date (Time): 30 April (16:00 IST/11:30 BST)
Venue: Ferozeshah Kotla, Delhi
Match 27: Sunrisers Hyderabad vs Royal Challengers Bangalore
Date (Time): 30 April (20:00 IST/15:30 BST)
Venue: Rajiv Gandhi International Cricket Stadium, Hyderabad
Match 28: Gujarat Lions vs Kings XI Punjab
Date (Time): 1 May (16:00 IST/11:30 BST)
Venue: Saurashtra Cricket Association Stadium, Rajkot
Match 29: Rising Pune Supergiants vs Mumbai Indians
Date (Time): 1 May (20:00 IST/15:30 BST)
Venue: MCA International Stadium, Pune
Match 30: Royal Challengers Bangalore vs Kolkata Knight Riders
Date (Time): 2 May (20:00 IST/15:30 BST)
Venue: M. Chinnaswamy Stadium, Bengaluru
Match 31: Gujarat Lions vs Delhi Daredevils
Date (Time): 3 May (20:00 IST/15:30 BST)
Venue: Saurashtra Cricket Association Stadium, Rajkot
Match 32: Kolkata Knight Riders vs Kings XI Punjab
Date (Time): 4 May (20:00 IST/15:30 BST)
Venue: Eden Gardens, Kolkata
Match 33: Delhi Daredevils vs Rising Pune Supergiants
Date (Time): 5 May (20:00 IST/15:30 BST)
Venue: Ferozeshah Kotla, Delhi
Match 34: Sunrisers Hyderabad vs Gujarat Lions
Date (Time): 6 May (20:00 IST/15:30 BST)
Venue: Rajiv Gandhi International Cricket Stadium, Hyderabad
Match 35: Royal Challengers Bangalore vs Rising Pune Supergiants
Date (Time): 7 May (16:00 IST/11:30 BST)
Venue: M. Chinnaswamy Stadium, Bengaluru
Match 36: Kings XI Punjab vs Delhi Daredevils
Date (Time): 7 May (20:00 IST/15:30 BST)
Venue: Punjab Cricket Association Stadium, Mohali
Match 37: Mumbai Indians vs Sunrisers Hyderabad
Date (Time): 8 May (16:00 IST/11:30 BST)
Venue: ACA-VDCA Cricket Stadium, Visakhapatnam
Match 38: Kolkata Knight Riders vs Gujarat Lions
Date (Time): 8 May (20:00 IST/15:30 BST)
Venue: Eden Gardens, Kolkata
Match 39: Kings XI Punjab vs Royal Challengers Bangalore
Date (Time): 9 May (20:00 IST/15:30 BST)
Venue: Punjab Cricket Association Stadium, Mohali
Match 40: Rising Pune Supergiants vs Sunrisers Hyderabad
Date (Time): 10 May (20:00 IST/15:30 BST)
Venue: ACA-VDCA Cricket Stadium, Visakhapatnam
Match 41: Royal Challengers Bangalore vs Mumbai Indians
Date (Time): 11 May (20:00 IST/15:30 BST)
Venue: M. Chinnaswamy Stadium, Bengaluru
Match 42: Sunrisers Hyderabad vs Delhi Daredevils
Date (Time): 12 May (20:00 IST/15:30 BST)
Venue: Rajiv Gandhi International Cricket Stadium, Hyderabad
Match 43: Mumbai Indians vs Kings XI Punjab
Date (Time): 13 May (20:00 IST/15:30 BST)
Venue: ACA-VDCA Cricket Stadium, Visakhapatnam
Match 44: Royal Challengers Bangalore vs Gujarat Lions
Date (Time): 14 May (16:00 IST/11:30 BST)
Venue: M. Chinnaswamy Stadium, Bengaluru
Match 45: Kolkata Knight Riders vs Rising Pune Supergiants
Date (Time): 14 May (20:00 IST/15:30 BST)
Venue: Eden Gardens, Kolkata
Match 46: Mumbai Indians vs Delhi Daredevils
Date (Time): 15 May (16:00 IST/11:30 BST)
Venue: ACA-VDCA Cricket Stadium, Visakhapatnam
Match 47: Kings XI Punjab vs Sunrisers Hyderabad
Date (Time): 15 May (20:00 IST/15:30 BST)
Venue: Punjab Cricket Association Stadium, Mohali
Match 48: Kolkata Knight Riders vsRoyal Challengers Bangalore
Date (Time): 16 May (20:00 IST/15:30 BST)
Venue: Eden Gardens, Kolkata
Match 49: Rising Pune Supergiants vs Delhi Daredevils
Date (Time): 17 May (20:00 IST/15:30 BST)
Venue: ACA-VDCA Cricket Stadium, Visakhapatnam
Match 50: Royal Challengers Bangalore vs Kings XI Punjab
Date (Time): 18 May (20:00 IST/15:30 BST)
Venue: M. Chinnaswamy Stadium, Bengaluru
Match 51: Gujarat Lions vs Kolkata Knight Riders
Date (Time): 19 May (20:00 IST/15:30 BST)
Venue: Green Park Stadium, Kanpur
Match 52: Delhi Daredevils vs Sunrisers Hyderabad
Date (Time): 20 May (20:00 IST/15:30 BST)
Venue: Shaheed Veer Narayan Singh International Cricket Stadium, Raipur
Match 53: Rising Pune Supergiants vs Kings XI Punjab
Date (Time): 21 May (16:00 IST/11:30 BST)
Venue: ACA-VDCA Cricket Stadium, Visakhapatnam
Match 54: Gujarat Lions vs Mumbai Indians
Date (Time): 21 May (20:00 IST/15:30 BST)
Venue: Green Park Stadium, Kanpur
Match 55: Kolkata Knight Riders vs Sunrisers Hyderabad
Date (Time): 22 May (16:00 IST/11:30 BST)
Venue: Eden Gardens, Kolkata
Match 56: Delhi Daredevils vs Royal Challengers Bangalore
Date (Time): 22 May (20:00 IST/15:30 BST)
Venue: Shaheed Veer Narayan Singh International Cricket Stadium, Raipur
Play-Offs
Match 57: Gujarat Lions vs Royal Challengers Bangalore
Date (Time): 24 May (20:00 IST/15:30 BST)
Venue: M. Chinnaswamy Stadium, Bengaluru
Match 58: Sunrisers Hyderabad vs Kolkata Knight Riders
Date (Time): 25 May (20:00 IST/15:30 BST)
Venue: Feroz Shah Kotla, Delhi
Match 59: TBD vs TBD
Date (Time): 27 May (20:00 IST/15:30 BST)
Venue: Feroz Shah Kotla, Delhi
Final
Match 60: TBD vs TBD
Date (Time): 29 May (20:00 IST/15:30 BST)
Venue: M. Chinnaswamy Stadium, Bengaluru