Indian Premier League is one of the most viewed and entertaining twenty20 cricket leagues. Cricketers from all over the world participate in IPLT20 every year which is watched by billions of cricket fans, especially in India. Sony Entertainment Television (SET MAX) and Sony Pictures Network (SPN) is the official broadcaster and television channel network for Vivo IPL 2017.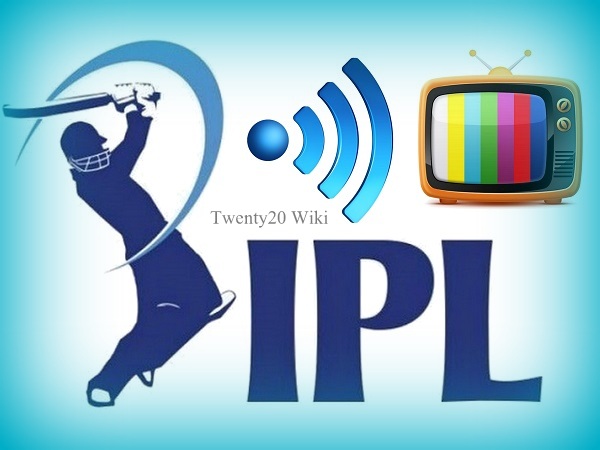 Global broadcasting rights of Indian Premier League have been alloted to hotstar.com to air live IPL matches on internet. Board of Cricket Control in India (BCCI) awarded tv channel rights for a time duration period of 10 years in 2008. Hence the current broadcasters list will remain only for 10th edition of IPL meanwhile new broadcasting deals and rights will be announced in due course that will begin from IPL 2018.
Let's have a look at the complete list of broadcasting networks, tv channels list for Vivo IPL.
IPL 2017 Broadcasters, TV Channels List
Country
Broadcaster / TV Channel
Contract
Africa
SuperSport
2008-Present
Bangladesh
Maasranga
2008-Present
Bhutan
SET Max
2008-Present
Sony SIX
2013-Present
Brunei
Astro
2008-Present
Canada
Sportsnet
2011-2014
Caribbean
SportsMax
2008-Present
Hong Kong
PCCW
2010-Present
India
Sony MAX
2008-Present
Sony SIX
2013-Present
Sony ESPN
2015-Present
Malaysia
Astro
2008-Present
Arab
OSN Sports
2015-Present
Nepal
Sony MAX
2008-Present
Sony SIX
2013-Present
Sony ESPN
2016-Present
New Zealand
Sky Sports
2012-Present
Pakistan
Geo Super
2012-Present
Singapore
StarHub
2008-Present
Singtel
2015-Present
Sri Lanka
Carlton Sports Network
2012-Present
United Kingdom
ITV4
2011-2014
Sky Sports
2015-Present
United States
ESPN
2015-Present
Worldwide Internet Rights
Hotstar
2015-Present
List of 2017 IPL matches to be aired live
Match 1: SRH vs RCB, April 5 2017, 8:00 PM IST
Match 2: Rising Pune Supergiants vs Mumbai Indians, April 6 2017, 8:00 PM IST
Match 3: Gujarat Lions vs KKR, April 7 2017, 8:00 PM IST
Match 4: Kings XI Punjab vs Rising Pune Supergiant, April 8 2017, 4:00 PM IST
Match 5: Royal Challengers Bangalore vs Delhi Daredevils, April 8 2017, 8:00 PM IST
Match 6: SRH vs Gujarat Lions, April 9 2017, 4:00 PM IST
Match 7: Mumbai Indians vs Kolkata Knight Riders, April 9 2017, 8:00 PM IST
Match 8: Kings XI Punjab vs RCB, April 10 2017, 8:00 PM IST
Match 9: Rising Pune Supergiant vs Delhi Daredevils, April 11 2017, 8:00 PM IST
Match 10: Mumbai Indians vs Sunrisers Hyderabad, April 12 2017, 8:00 PM IST
Match 11: KKR vs Kings XI Punjab, April 13 2017, 8:00 PM IST
Match 12: Royal Challengers Bangalore vs MI, April 14 2017, 4:00 PM IST
Match 13: Gujarat Lions vs Rising Pune Supergiant, April 14 2017, 8:00 PM IST
Match 14: KKR vs SRH, April 15 2017, 4:00 PM IST
Match 15: DD vs Kings XI Punjab, April 15 2017, 8:00 PM IST
Match 16: Mumbai Indians vs GL, April 16 2017, 4:00 PM IST
Match 17: RCB vs Rising Pune Supergiant, April 16 2017, 8:00 PM IST
Match 18: Delhi Daredevils vs KKR, April 17 2017, 4:00 PM IST
Match 19: Sunrisers Hyderabad vs KXIP, April 17 2017, 8:00 PM IST
Match 20: Gujarat Lions vs RCB, April 18 2017, 8:00 PM IST
Match 21: SRH vs Delhi Daredevils, April 19 2017, 8:00 PM IST
Match 22: Kings XI Punjab vs Mumbai Indians, April 20 2017, 8:00 PM IST
Match 23: Kolkata Knight Riders vs Gujarat Lions, April 21 2017, 8:00 PM IST
Match 24: Rising Pune Supergiant vs SRH, April 22 2017, 4:00 PM IST*
Match 25: Mumbai Indians vs Delhi Daredevils, April 22 2017, 8:00 PM IST*
Match 26: Gujarat Lions vs Kings XI Punjab, April 23 2017, 4:00 PM IST
Match 27: KKR vs RCB, April 23 2017, 8:00 PM IST
Match 28: Mumbai Indians vs Rising Pune Supergiant, April 24 2017, 8:00 PM IST
Match 29: Royal Challengers Bangalore vs SRH, April 25 2017, 8:00 PM IST
Match 30: Rising Pune Supergiant vs KKR, April 26 2017, 8:00 PM IST
Match 31: RCB vs Gujarat Lions, April 27 2017, 8:00 PM IST
Match 32: Kolkata Knight Riders vs Delhi Daredevils, April 28 2017, 4:00 PM IST
Match 33: Kings XI Punjab vs SRH, April 28 2017, 8:00 PM IST
Match 34: Rising Pune Supergiant vs RCB, April 29 2017, 8:00 PM IST
Match 35: Gujarat Lions vs Mumbai Indians, April 29 2017, 8:00 PM IST
Match 36: Kings XI Punjab vs Delhi Daredevils, April 30 2017, 4:00 PM IST
Match 37: Sunrisers Hyderabad vs KKR, April 30 2017, 8:00 PM IST
Match 38: Mumbai Indians vs RCB, May 1 2017, 4:00 PM IST
Match 39: Rising Pune Supergiant vs Gujarat Lion, May 1 2017, 8:00 PM IST
Match 40: Delhi Daredevils vs SRH, May 2 2017, 8:00 PM IST
Match 41: KKR vs Rising Pune Supergiant, May 3 2017, 8:00 PM IST
Match 42: Delhi Daredevils vs Gujarat Lions, May 4 2017, 8:00 PM IST
Match 43: RCB vs Kings XI Punjab, May 5 2017, 8:00 PM IST
Match 44: SRH vs Rising Pune Supergiant, May 6 2017, 4:00 PM IST
Match 45: Delhi Daredevils vs Mumbai Indians, May 6 2017, 8:00 PM IST*
Match 46: RCB vs KKR, May 7 2017, 4:00 PM IST
Match 47: Kings XI Punjab vs Gujarat Lions, May 7 2017, 8:00 PM IST
Match 48: SRH vs Mumbai Indians, May 8 2017, 8:00 PM IST
Match 49: Kings XI Punjab vs KKR, May 9 2017, 8:00 PM IST
Match 50: Gujarat Lions vs Delhi Daredevils, May 10 2017, 8:00 PM IST
Match 51: Mumbai Indians vs Kings XI Punjab, May 11 2017, 8:00 PM IST
Match 52: Delhi Daredevlis vs Rising Pune Super Giant, May 12 2017, 8:00 PM IST
Match 53: Gujarat Lions vs SRH, May 13 2017, 4:00 PM IST
Match 54: KKR vs Mumbai Indians, May 13 2017, 8:00 PM IST
Match 55: Rising Pune Supergiant vs Kings XI Punjab, May 14 2017, 4:00 PM IST
Match 56: Delhi Daredevils vs RCB, May 15 2017, 8:00 PM IST
1st Qualifier: May 16 2017, 8:00 PM IST
Eliminator: May 17 2017, 8:00 PM IST
2nd Qualifier: May 19 2017, 8:00 PM IST
Final: May 21 2017, 8:00 PM IST