India and Pakistan are playing 5th match of Asia Cup 2016 today in Mirpur. Match starts at 7:00 PM IST and 6:30 PM PKT. Indian captain MS Dhoni won toss and chose to field first. India made one change to playing XI for today's match as Ajinkya Rahane replaces injured Shikhar Dhawan. Khurram Manzoor to make T20I debut for Pakistan. Toss: India won toss and chose to bowl first.
Playing XI Teams
India: MS Dhoni (c), Ajinkya Rahane, Rohit Sharma, Virat Kohli, Suresh Raina, Yuvraj Singh, Ravindra Jadeja, Ravichandran Ashwin, Jasprit Bumrah, Ashish Nehra, Hardik Pandya.
Pakistan: Shahid Afridi (c), Khurram Manzoor, Sharjeel Khan, Mohammad Hafeez, Shoaib Malik, Wahab Riaz, Mohammad Sami, Mohammad Amir, Mohammad Irfan, Sarfraz Ahmed, Umar Akmal.
Live Blog Updates:
Indian innings
Result: India beat Pakistan by 5 wickets.
15.3 overs: Dhoni finishes things in style and hit brilliant boundary. India won the match by 5 wickets.
15 Overs: India on 80/5. Dhoni and Yuvi on the crease. India need 4 runs to win.
14.3 Overs: Hardik Pandya gone. Mohammad Sami took 2nd wicket in the over and India lost 5 wickets. Just 8 runs away from the win.
14.1 Overs: Kohli got LBW on 49. It was big inside edge but umpire didn't hear it and raised his finger. This was second bad decision from umpire in the match. Kohli made 49.
14 Overs: India – 76/3.
13 Overs: India-69/3. India need 15 runs to win.
12 Overs: India on 63 for the loss of 3 wickets in 12 overs.
11 Overs: India 58/3.
10 Overs: India on 53 for the loss of 3 wickets. Kohli on 32 and Yuvraj on 10.
9 Overs: India collected 3 boundaries in this over of Wahab Riaz. Kohli smashed 2 and Yuvi hit one four. India on 50/3.
8 Overs: India 35/3. Virat is batting on 18.
7 Overs: India 29/3. Kohli hit two fours to Amir. Mohammad Amir completed 4 overs quota. He spent 18 runs.
6 Overs: India 21/3. This is India's lowest Powerplay total in twenty20 internationals. Previous was 24 against Australia in 2010 at Bridgetown.
5 Overs: India on 20 for 3 wickets down.
4 Overs: India – 13/3. Yuvraj and Kohli on the crease.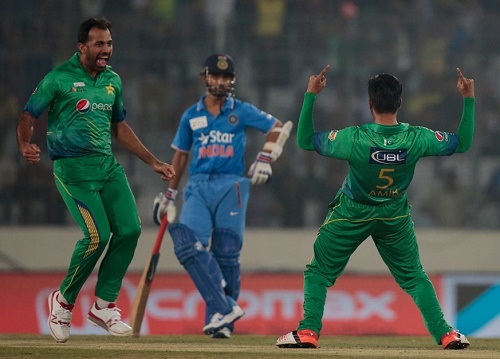 3 Overs: India 9/3 in 3 overs.
2.4 Overs: Raina gone. Amir 3/3.
2 Overs: India on 6 after losing 2 wickets.
1 Over: India 2/2. Raina and Kohli on the crease. Amir took two wickets in first over.
0.4 Overs: Ajinkya Rahane also returned to pavilion in the first over.
0.2 Overs: Rohit Sharma out. Md. Amir took Rohit's wicket.
Pakistan innings
17.3 Overs: Pakistan all out on 83. Bumrah took 10th wicket as dimissed Mohammad Amir.
17.2 Overs: Pakistan lost 9th wicket.
17 Overs: Pakistan- 83/8.
16 Overs: Pak – 71/8.
15.1 overs: Ahmed gone. He made 25. Ravindra Jadeja bowled him.
15 Overs: Pakistan on 70 for the loss of 7 wickets.
14 Overs: 63/7 in 14.0 overs. Sarfraz Ahmed making some good runs and trying to take team's total near 100.
13 Overs: Pak on 60/3.
12 Overs: Pakistan – 56/7.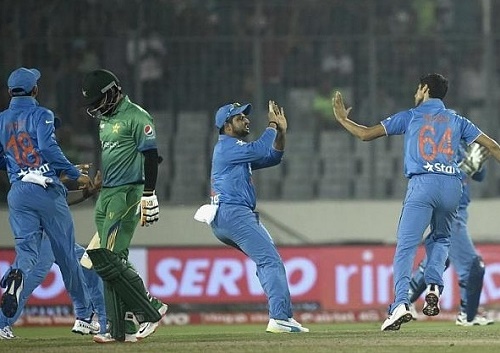 11.3 overs: Pak lost 7th wicket. Jadeja dismissed Riaz LBW on 4 runs individual score.
11 Overs: Pakistan – 52/6. Ahmed and Riaz trying to make some runs.
10 Overs: Pakistan 48/6.
9 Overs: Pakistan 44/6.
8 Overs: 2 wickets dismissed in this over. Yuvi took Akmal's wicket on the very first ball of over and then it was suicidal run out as Jadeja throws exceptionally well to dismiss Afridi. Pakistan – 42/6 in 8 overs.
7 Overs: Pakistan lost 4th wicket on the last ball of Hardik Pandy. Shoaib Malik dismissed for 4 runs.
6 Overs: Pakistan 32/3. Manzoor gone for 10 after playing 18 balls. He was run out as Kohli throw brilliant on the wicket.
5 Overs: Pakistan – 28/2. Excellent shout from whole Indian team but umpire didn't hear the edge.
4 Overs: Pakistan – 26/2.
3.3 over: Sharjeel Gone. Brilliant bowl from Bumrah to take edge of left-handed batsman.
3 Overs: 13 runs in the second over of Ashish Nehra. Pakistan 18/1.
2 Overs: Full of excitement and shout from Indian side but Khurram survives. Maiden over completes.
1 Overs: Pakistan 4/1 (Khurram 1*, Sharjeel 0*)
0.4 Over: Ashish Nehra dismiss Hafeez in the first over of match. MS Dhoni takes a comfortable catch.