Bangladesh has defeated Oman cricket team in the last group match of first round in 2016 t20 world cup to make through to super-10 stage of championship starting from 15th March. Bangladesh won by 54 runs in this rain interrupted match. Bangladesh will now play India, Australia, Pakistan and New Zealand in the second round of wt20.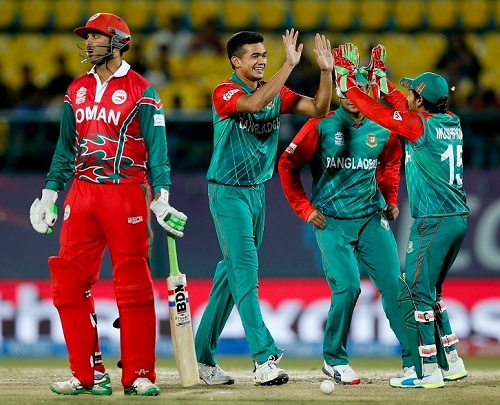 Tamim Iqbal scored brilliant century for Bangladesh to put up big total of 180 runs. He also became first Bangladesh player to score ton T20I. With his excellent 103 runs beaten innings from 63 balls, helped Tigers to reach 180 in 20 overs. Sabbir Rahman also scored 44 runs in 26 balls in this 180 runs big total.
In the chase of such big target, Oman team scored 41 runs for the loss of 2 wickets in 7 overs. Suddenly heavy rain started and match was stopped. After getting all fine with weather and conditions, match started again and as per revised playing conditions, Oman was required to score 120 runs to win the match in 12 overs. But Oman failed to do it and whole team managed to score just 65 runs in 12 overs for the lost of 9 wickets.
Tamim Iqbal was named man of the match for his brilliant innings.