CPL 2016 Schedule, Matches in Indian Standard Timing (IST)
The Caribbean Premier League 2016 season has begun and tournament will be televised around the globe. There is difference in match timings due to global time difference. As per Indian Standard Timings, CPLT20 will begin on 30 June with an opening match at 6:30 AM.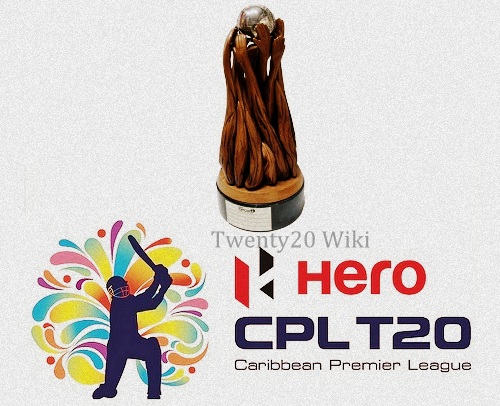 Let's have a look at the complete schedule and fixtures of 2016 Hero Caribbean Premier League in IST.
CPL Time-Table IST
| | | | |
| --- | --- | --- | --- |
| Date | Time (IST) | Fixture | Venue |
| 30 June | 6:30 | Trinbago Knight Riders vs St. Lucia Zouks | Port of Spain |
| 1 July | 5:30 | St. Kitts Nevis Patriots vs Guyana Amazon Warriors | Basseterre, St Kitts |
| 2 July | 6:30 | Trinbago Knight Riders vs Barbados Tridents | Port of Spain |
| 2 July | 21:30 | St. Kitts Nevis Patriots vs Jamaica Tallawahs | Basseterre, St Kitts |
| 3 July | 18:30 | Trinbago Knight Riders vs Guyana Amazon Warriors | Port of Spain |
| 4 July | 1:30 | St. Kitts Nevis Patriots vs St. Lucia Zouks | Basseterre, St Kitts |
| 5 July | 4:30 | Trinbago Knight Riders vs Jamaica Tallawahs | Port of Spain |
| 6 July | 4:30 | St. Kitts Nevis Patriots vs Barbados Tridents | Basseterre, St Kitts |
| 8 July | 4:30 | Guyana Amazon Warriors vs Jamaica Tallawahs | Providence, Guyana |
| 9 July | 21:30 | Guyana Amazon Warriors vs St. Kitts Nevis Patriots | Providence, Guyana |
| 11 July | 4:30 | Guyana Amazon Warriors vs Trinbago Knight Riders | Providence, Guyana |
| 12 July | 5:30 | Barbados Tridents vs Jamaica Tallawahs | Barbados |
| 13 July | 4:30 | Guyana Amazon Warriors vs St. Lucia Zouks | Providence, Guyana |
| 14 July | 5:30 | Barbados Tridents vs St. Kitts Nevis Patriots | Barbados |
| 16 July | 6:30 | Jamaica Tallawahs vs Guyana Amazon Warriors | Jamaica |
| 16 July | 21:30 | Barbados Tridents vs Trinbago Knight Riders | Barbados |
| 17 July | 4:30 | Jamaica Tallawahs vs St. Kitts Nevis Patriots | Jamaica |
| 18 July | 4:30 | Barbados Tridents vs St. Lucia Zouks | Barbados |
| 19 July | 6:30 | Jamaica Tallawahs vs Trinbago Knight Riders | Jamaica |
| 21 July | 6:30 | Jamaica Tallawahs vs Barbados Tridents | Jamaica |
| 22 July | 3:30 | St. Lucia Zouks vs St. Kitts Nevis Patriots | St Lucia |
| 23 July | 21:30 | St. Lucia Zouks vs Barbados Tridents | St Lucia |
| 25 July | 2:30 | St. Lucia Zouks vs Guyana Amazon Warriors | St Lucia |
| 27 July | 3:30 | St. Lucia Zouks vs Trinbago Knight Riders | St Lucia |
| 29 July | 4:30 | Guyana Amazon Warriors vs Barbados Tridents | Florida |
| 30 July | 4:30 | St. Kitts Nevis Patriots vs Trinbago Knight Riders | Florida |
| 30 July | 21:30 | St. Lucia Zouks vs Jamaica Tallawahs | Florida |
| 31 July | 1:30 | Barbados Tridents vs Guyana Amazon Warriors | Florida |
| 31 July | 21:30 | Trinbago Knight Riders vs St. Kitts Nevis Patriots | Florida |
| 1 August | 1:30 | Jamaica Tallawahs vs St. Lucia Zouks | Florida |
| 3 August | | Playoff-1 | St. Kitts |
| 4 August | | Playoff-2 | St. Kitts |
| 5 August | | Playoff-3 | St. Kitts |
| 7 August | | Final | St. Kitts |