The IPL is undoubtedly one of the largest sports fiesta, the most unpredictable nerve-wracking game and the richest and most expensive annual cricket tournament in India. The best players of the teams earn as much as $1.1m, if not more.
But can the title of an "IPL Champion" be crowned to a cluster of highly played players? Note that I didn't indicate it as a team. Why? Because a team doesn't only need big budget shots but punks as well.
The recipe for a good IPL team is simple yet specific.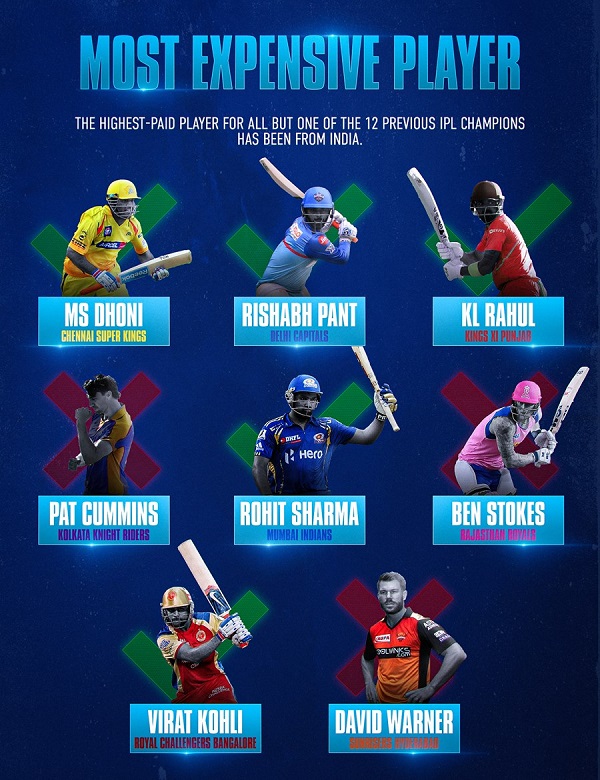 Detailed Analysis
This tricky game of cricket cannot be only won on the basis of skill, analysis is a must. As per latest analysis from betway it is found that the team with the most expensive squad has never won the tournament. In fact, Rajasthan Royals won the inaugural tournament in 2008, despite being the least valuable squad. Mumbai Indians having a total sum of $11,262,600 just on the playing staff, might be ruled out, based on the facts stated above. But it still isn't that simple.
Balancing locals with overseas
Just like a dish should have balance between spice and sweet, bitter and tang, an IPL team should contain both International and Indian players. Facts show, Indian players are paid more. Though, on the December's auction, KKR has recruited Aussie pacer, Pat Cummins for $2.2m, and West Indies international Sunil Narine is paid more than captain Dinesh Karthik. Rajasthan Royals have England sensation Ben Stokes ($1.8m) and Australian captain Steve Smith($1.7m) whereas Sanju Samson is paid $1.1m.
A Good age balance can secure victory
Although experience is crucial, but age is not 'just' a number on the 22 yard cricket pitch. Stamina is indeed important. Statistically speaking, a team with an average age of more than 30 years have never won. The only team to have won the IPL with an average age of less than 25 is Rajasthan Royals in 2008.
A Good Captain is the icing on the cake
A captain must not fail at fulfilling his duty. Boosting the morale of the team at every minute they play is a key ingredient. We all know MS. Dhoni as the captain cool. Another remarkable captain is Virat Kohli. Although both of them are polar opposites, they have their own unique flavor. Although RCB has yet not won the IPL but they have graced the finals for three years,  2009, 2011 and 2016.
Every recipe can be upgraded and leveled up and for a game such as IPL, chances are indeed innumerable.