International Cricket Council have announced the match timings for ICC World Twenty20 2016 in India. Cricket's biggest governing body also revealed the warm-up schedule and fixtures for both men's and women's t20 world cup event. 8 venues to host WT20 matches from 8 March to 3 April 2016 in India.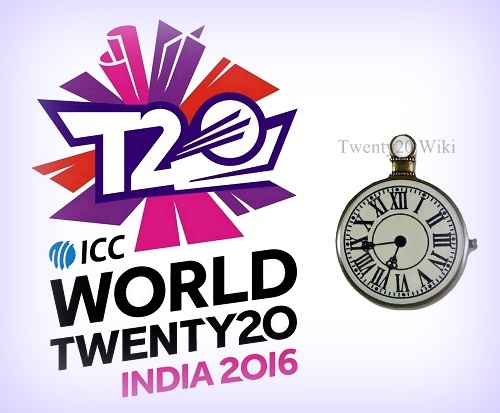 The afternoon matches for men's world t20 will start at 15:00 IST and must be completed till 18:10 as per local watch. While evening games are scheduled to be played between 19:30 and 22:40 as per Indian Standard Timings. The knockout matches will be played from 19:00 to 22:10 IST.
Women's world t20 afternoon matches will kicks off at 15:30 and will conclude till 18:15. On the other hand evening games will be played from 19:30 to 22:15 IST. The semi-finals and final are scheduled to play before men's matches and set to play between 14:30 and 17:15.
ICC also announced the warm-up matches schedule for tournament. Participating teams in first round of men's twenty20 world cup 2016 will play practice games from 3 to 6 March whereas qualified super-10 teams will play warm-up matches between 10 and 15 March in Mumbai and Kolkata. Women's teams will play practice matches on 10, 12 and 14th March in Bengaluru and Chennai.
Warm-up match schedule (men's)
Date
Time (IST)
Fixture
Venue
3 March
15:00
Zimbabwe vs Local Team
Dharamsala
19:30
Ireland vs Hong Kong
Dharamsala
4 March
15:00
Netherlands vs Local Team
Mohali
19:30
Scotland vs Oman
Mohali
5 March
15:00
Ireland vs Zimbabwe
Dharamsala
19:30
Bangladesh vs Hong Kong
Dharamsala
6 March
15:00
Scotland vs Netherlands
Mohali
19:30
Oman vs Afghanistan
Mohali
10 March
19:30
New Zealand vs Sri Lanka
Mumbai
19:30
India vs West Indies
Kolkata
12 March
15:00
New Zealand vs England
Mumbai
15:00
Pakistan vs Local Team
Kolkata
19:30
India vs South Africa
Mumbai
13 March
19:30
Australia vs West Indies
Kolkata
14 March
15:00
England vs Local Team
Mumbai
15:00
Pakistan vs Sri Lanka
Kolkata
15 March
15:00
South Africa vs Local Team
Mumbai
Note: If Afghanistan, Hong Kong or Oman reach the second round of the Asia Cup, then their warm-up matches will be rescheduled accordingly.
Warm-up match schedule (women's)
Date
Time
Fixture
Venue
10 March
15:00
India vs Ireland
Bengaluru
19:30
Sri Lanka vs Bangladesh
Bengaluru
19:30
New Zealand vs Pakistan
Chennai
12 March
15:00
Bangladesh vs Ireland
Bengaluru
15:00
New Zealand vs England
Chennai
19:30
Sri Lanka vs India
Bengaluru
19:30
Pakistan vs South Africa
Chennai
14 March
15:00
West Indies vs Australia
Chennai
19:30
South Africa vs England
Chennai