International Cricket Council has revealed new plans for upcoming ICC Women's World Twenty20 2016 starting from 15th March. As per the new strategies, ICC will broadcast 13 matches of 5th women's t20 world cup which schedules to play in India. 10 group round games, 2 semi-finals and final will be aired live on ICC TV and it's official broadcasting partners like Star Sports.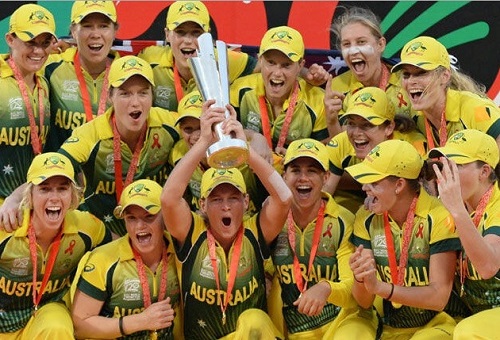 ICC Chief Executive David Richardson said, "The ICC is committed to promoting all formats of the game, both men's and women's. The quality and depth of women's cricket continues to improve year on year, producing an exciting, skillful and attractive brand of cricket. The live broadcast coverage of 13 matches from the ICC Women's World Twenty20 India 2016 is part of this strategy and will provide further impetus to the growth of the women's game. I am confident that fans will enjoy watching the stars in action."
This is the first occasion when such big number of women's world t20 matches will be televised and air online. Australia women's team is the title defending champion of three times this year.
ICC Women's Committee Chair Clare Connor said, "It is fantastic and ground-breaking news for the women's game that 13 matches from the ICC Women's World Twenty20 India 2016 will be broadcast live across the world. On the eve of International Women's Day it is powerful to see ICC's commitment towards driving equality across men's and women's cricket. These broadcast matches will help us grow the women's game worldwide, inspiring the next generation to pick up a bat and ball and play cricket."
Schedule of women's WT20 broadcast matches
15 March, 2016 – India v Bangladesh, Bengaluru (15:30 IST) Group B
17 March, 2016 – England v Bangladesh, Bengaluru (15:30 IST) Group B
19 March, 2016 – India v Pakistan, Delhi (15:30 IST), Group B
21 March, 2016 – Australia v New Zealand, Nagpur (15:30 IST) Group A
22 March, 2016 – England v India, Dharamsala (15:30 IST), Group B
24 March, 2016 – Australia v Sri Lanka, Delhi (15:30 IST), Group A
24 March, 2016 – Pakistan v Bangladesh, Delhi (19:30 IST) Group B
26 March, 2016 – Australia v Ireland, Delhi (15:30 IST), Group A
27 March, 2016 – West Indies v India, Mohali (15:30 IST), Group B
28 March, 2016 – South Africa v Sri Lanka, Bengaluru (15:30 IST), Group A
30 March, 2016 – First semi-final, Delhi (14:30 IST)
31 March, 2016 – Second semi-final, Mumbai (14:30 IST)
3 April, 2016 – Final, Kolkata (14:30 IST)