Yuvraj Singh is set to get big amount again in the Indian Premier League auction as he's got featured in the list of 12 players whom base price is 2 Crore INR for IPL 2016 auction. As per espncricinfo report, the 12 players list feature some top cricketers like Kevin Pietersen, Michael Hussey, Mitchell Marsh, Shane Watson, Ishant Sharma and others.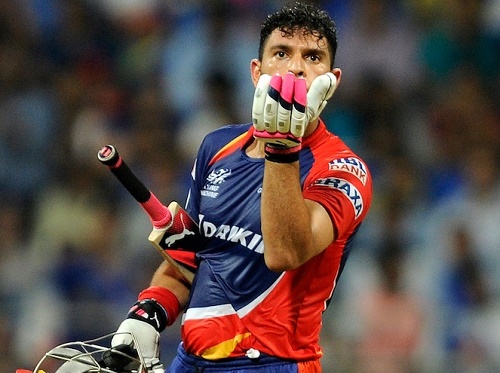 A total of 714 players pool is currently available for auction but it will be trimmed on 25 January. The final list of players for IPL-9 auction will be announced on Monday. The other names in the beg of 12 players are Dinesh Karthik, Stuart Binny, Ashish Nehra, Dhawal Kulkarni and Sanju Sampson.
The second highest base price of auction is 1.5 Crore INR. Three players Dale Steyn, Jos Buttler and Mohit Sharma are featured in the list.
There are two new teams in Indian Premier League 2016 and they will be having a total of 27 crore rupees purse while entering in the auction. Rajkot team and Rising Pune Supergiants received 5-5 players each in the players draft in December 2015. Delhi Daredevils also have 37.15 cr INR for the auction as they released 13 players from their 2015 squad.
Total remaining amount purse for teams
Delhi Daredevils (INR 37.15 crore)
Sunrisers Hyderabad (INR 30.15 crore)
Rising Pune Super Giants (INR 27 crore)
Rajkot (INR 27 crore)
Kings XI Punjab (INR 23 crore)
Royal Challengers Bangalore (INR 21.625 crore)
Kolkata Knight Riders (INR 17.95 crore)
Mumbai Indians (INR 14.405 crore)
IPL 2016 auction is scheduled to take place on 6th February in Bengaluru.