Leading run scorers in ICC World Twenty20 2016
2016 ICC World Twenty20 is the sixth edition of wt20 championship in which 16 teams are playing. It's a shorter version of the game and basically was invented to entertain crowd with big sixes and runs. Hence batsmen dominate the T20 format maximum time. So here are the 10 most runs scorers in twenty20 cricket world cup 2016.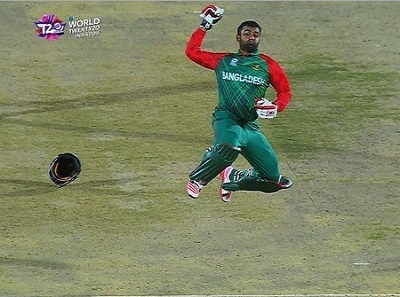 Currently Bangladesh's batsman Tamim Iqbal is the leading run maker in competition.
Highest runs scorer in world t20 2016
| | | | | | | | | | |
| --- | --- | --- | --- | --- | --- | --- | --- | --- | --- |
| Player | Matches | Runs | Highest | 6s | 4s | 50s | 100s | Average | Strike Rate |
| Tamim Iqbal (BAN) | 6 | 295 | 103* | 14 | 24 | 1 | 1 | 73.75 | 142.51 |
| Virat Kohli (IND) | 5 | 273 | 89* | 5 | 29 | 3 | 0 | 136.50 | 146.77 |
| Joe Root (ENG) | 6 | 249 | 83 | 7 | 24 | 2 | 0 | 49.80 | 146.47 |
| Mohammad Shahzad (AFG) | 7 | 222 | 61 | 12 | 23 | 1 | 0 | 31.71 | 140.50 |
| Jos Buttler (ENG) | 6 | 191 | 66* | 12 | 13 | 1 | 0 | 47.75 | 159.16 |
| Jason Roy (ENG) | 6 | 183 | 78 | 7 | 22 | 1 | 0 | 30.50 | 148.78 |
| Marlon Samuels (WI) | 6 | 181 | 85* | 2 | 26 | 1 | 0 | 36.20 | 112.42 |
| Quinton de Kock (SA) | 4 | 153 | 52 | 6 | 18 | 1 | 0 | 38.25 | 142.99 |
| Sabbir Rahman (BAN) | 7 | 147 | 44 | 4 | 17 | 0 | 0 | 24.50 | 123.52 |
| Usman Khawaja (AUS) | 4 | 143 | 58 | 2 | 22 | 1 | 0 | 35.75 | 137.50 |