International Cricket Council's T20 World Cup 2020 will be held in Australia and 16 teams will be competing in the main event that has two rounds first and super-12. The twenty20 world cup is scheduled to take place from 18 October across 7 venues in the country.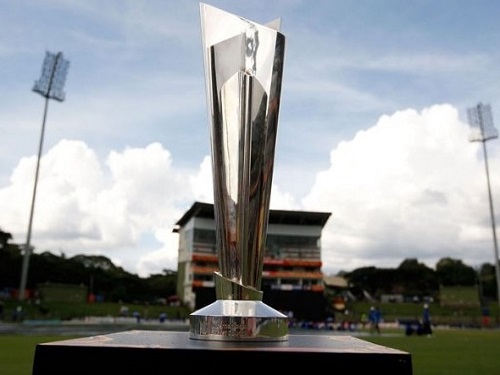 Indian cricket team will be one of the favorites of 2020 world cup and fans in India, will be desperate to know the match timings when all games will kick off. Hence here is schedule and fixtures of t20 world cup seventh edition we are bringing as per India Standard Time (IST).
India to play England, South Africa, Afghanistan and two qualifier teams from first round of the championship. Men In Blue to face South Africa in the 2nd match of super-12 stage on 24 October from 4:30 PM IST. Let's checkout complete schedule in IST.
ICC T20 World Cup 2020 Fixtures India Time
| | | | | |
| --- | --- | --- | --- | --- |
| DATE | TIME | MATCH | MATCH | VENUE |
| 18 October 2020 | 8:30 IST | Match 1 | Sri Lanka vs Ireland | Kardinia Park, Geelong |
| 18 October 2020 | 13:30 IST | Match 2 | PNG vs Oman | Kardinia Park, Geelong |
| 19 October 2020 | 8:30 IST | Match 3 | Bangladesh vs Namibia | Bellerive Oval, Tasmania |
| 19 October 2020 | 13:30 IST | Match 4 | Netherlands vs Scotland | Bellerive Oval, Tasmania |
| 20 October 2020 | 8:30 IST | Match 5 | Ireland vs Oman | Kardinia Park, Geelong |
| 20 October 2020 | 13:30 IST | Match 6 | Sri Lanka vs PNG | Kardinia Park, Geelong |
| 21 October 2020 | 8:30 IST | Match 7 | Namibia vs Scotland | Bellerive Oval, Tasmania |
| 21 October 2020 | 13:30 IST | Match 8 | Bangladesh vs Netherlands | Bellerive Oval, Tasmania |
| 22 October 2020 | 8:30 IST | Match 9 | PNG vs Ireland | Kardinia Park, Geelong |
| 22 October 2020 | 13:30 IST | Match 10 | Sri Lanka vs Oman | Kardinia Park, Geelong |
| 23 October 2020 | 8:30 IST | Match 11 | Netherlands vs Namibia | Bellerive Oval, Tasmania |
| 23 October 2020 | 13:30 IST | Match 12 | Bangladesh vs Scotland | Bellerive Oval, Tasmania |
| 24 October 2020 | 13:30 IST | Match 13 | Australia vs Pakistan | SCG, Sydney |
| 24 October 2020 | 16:30 IST | Match 14 | India vs South Africa | Perth Stadium, Perth |
| 25 October 2020 | 8:30 IST | Match 15 | A1 vs B2 | Blundstone Arena, Hobart |
| 25 October 2020 | 13:30 IST | Match 16 | New Zealand vs Windies | MCG, Melbourne |
| 26 October 2020 | 11:30 IST | Match 17 | Afghanistan vs A2 | Perth Stadium, Perth |
| 26 October 2020 | 16:30 IST | Match 18 | England vs B1 | Perth Stadium, Perth |
| 27 October 2020 | 13:30 IST | Match 19 | New Zealand vs B2 | Blundstone Arena, Hobart |
| 28 October 2020 | 11:30 IST | Match 20 | Afghanistan vs B1 | Perth Stadium, Perth |
| 28 October 2020 | 16:30 IST | Match 21 | Australia vs Windies | Perth Stadium, Perth |
| 29 October 2020 | 8:30 IST | Match 22 | Pakistan vs A1 | SCG, Sydney |
| 29 October 2020 | 13:30 IST | Match 23 | India vs A2 | MCG, Melbourne |
| 30 October 2020 | 13:30 IST | Match 24 | England vs South Africa | SCG, Sydney |
| 30 October 2020 | 16:30 IST | Match 25 | Windies vs B2 | Perth Stadium, Perth |
| 31 October 2020 | 9:30 IST | Match 26 | Pakistan vs New Zealand | The Gabba, Brisbane |
| 31 October 2020 | 14:30 IST | Match 27 | Australia vs A1 | The Gabba, Brisbane |
| 1 November 2020 | 9:00 IST | Match 28 | South Africa vs Afghanistan | Adelaide Oval, Adelaide |
| 1 November 2020 | 13:30 IST | Match 29 | India vs England | MCG, Melbourne |
| 2 November 2020 | 8:30 IST | Match 30 | A2 vs B1 | SCG, Sydney |
| 2 November 2020 | 14:30 IST | Match 31 | New Zealand vs A1 | The Gabba, Brisbane |
| 3 November 2020 | 9:00 IST | Match 32 | Pakistan vs Windies | Adelaide Oval, Adelaide |
| 3 November 2020 | 14:00 IST | Match 33 | Australia vs B2 | Adelaide Oval, Adelaide |
| 4 November 2020 | 14:30 IST | Match 34 | England vs Afghanistan | The Gabba, Brisbane |
| 5 November 2020 | 9:00 IST | Match 35 | South Africa vs A2 | Adelaide Oval, Adelaide |
| 5 November 2020 | 14:00 IST | Match 36 | India vs B1 | Adelaide Oval, Adelaide |
| 6 November 2020 | 8:30 IST | Match 37 | Pakistan vs B2 | MCG, Melbourne |
| 6 November 2020 | 13:30 IST | Match 38 | Australia vs New Zealand | MCG, Melbourne |
| 7 November 2020 | 9:00 IST | Match 39 | England vs A2 | Adelaide Oval, Adelaide |
| 7 November 2020 | 13:30 IST | Match 40 | Windies vs A1 | MCG, Melbourne |
| 8 November 2020 | 8:30 IST | Match 41 | South Africa vs B1 | SCG, Sydney |
| 8 November 2020 | 13:30 IST | Match 42 | India vs Afghanistan | SCG, Sydney |
| 11 November 2020 | 13:30 IST | Match 43 | First Semi-final | SCG, Sydney |
| 12 November 2020 | 14:00 IST | Match 44 | Second Semi-final | Adelaide Oval, Adelaide |
| 15 November 2020 | 13:30 IST | Match 45 | Final | MCG, Melbourne |