ICC have announced the global journey schedule of world twenty20 2016 trophy. Cup will begin it's tour on Sunday 13 December 2015 as it will go from Mumbai to Scotland. The aim to organize trophy's world tour is to let fans close to the trophy before the ICC World 20-20 winning team lifts it on 3 April at Eden Gardens in Kolkata. Nissan is the official sponsor of WT20 trophy.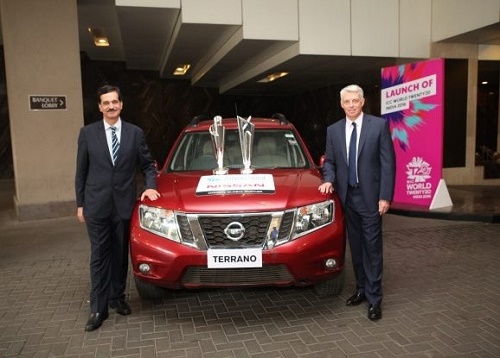 Mr. David Richardson who is the Chief Executive Officer at ICC, has said that trophy's tour aim is not limited to promote the event but it's aim is to give a chance to cricket fans and followers to get close to the trophy. ICC CEO also thanked Nissan for the sponsorship.
He said "The Nissan ICC World Twenty20 2016 Trophy Tour has been designed to not only promote the tournament but also to engage with our fans and provide them the first opportunity to get close to the trophy, which will be lifted by the winning captain on 3 April in Kolkata. We would like to thank Nissan for their sponsorship of the Trophy Tour and we are sure it will be a big success as it travels across the world ahead of the ICC World Twenty20 in India next year."
Nissan trophy will tour to 12 participating countries over the next 50 days. Initially trophy will be displayed in European countries which begins from Scotland. After this it will tour Ireland, England and Netherlands. In Europe only England has won the world t20 trophy as they claim it in 2010 in West Indies.
In the beginning of new year, trophy will move to Zimbabwe and will travel to nation on 2 and 3 January. In South Africa fans can watch trophy from 5 to 7 January in different parts of nation.
ICC World cup 2016 trophy will reach to Asia in the second week of January as from 11 to 12 Jan Pakistani fans can see the trophy. Moving from Pakistan, trophy will go to Bangladesh, Sri Lanka, New Zealand and Australia. After this it will return to New Delhi on 1 February.
Nissan World Twenty20 Trophy Tour Dates
| | |
| --- | --- |
| Dates | Country |
| 13-14 December | Scotland |
| 16-17 December | Ireland |
| 20-21 December | England |
| 22-23 December | Netherlands |
| 2-3 January | Zimbabwe |
| 5-7 January | South Africa |
| 11-12 January | Pakistan |
| 14-15 January | Bangladesh |
| 17-18 January | Sri Lanka |
| 21-24 January | New Zealand |
| 26-31 January | Australia |
| 1 February | New Delhi (India) |
The sixth edition of t20 cricket world cup will stage in India between 8 March and 3 April. There will be 16 national teams will be competing in the event to clinch the title and become world twenty20 champions for over the period 4 years as next world 20-20 will be played in 2020 in Australia.