One time ICC World Twenty20 winner and last tournament's runner up India will be one of the favorites to win 2016 20-20 world cup. Indian team won 2007 wt20 championship in South Africa whereas they were runner-up in 2014 edition of world t20 that was played in Bangladesh. Mahender Singh Dhoni led Men in Blue in all previous five editions of T20 world cup.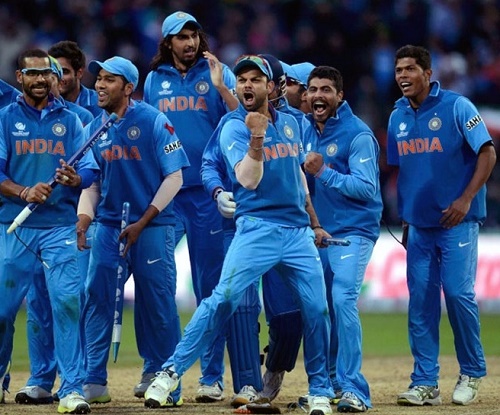 India will host the sixth edition of wt20 and undoubtedly MS Dhoni will be captaining Indian team in the event which will be played from 11th of March to 3rd of April 2016. In the 15-member squad he'll be playing as wicket-keeper batsman.
Batsmen
At the top of batting order Shikhar Dhawan and Rohit Sharma are the first choice as openers. Both batsmen are destructive players in the format and right and left hand combination will help team as well. If due to any reason any or both these players fail to play wt20, team management can send Ajinkya Rahane to open the innings.
Ajinkya Rahane, Virat Kohli, Suresh Raina and Ms Dhoni will be batting in the middle overs. No questions over Virat, Raina and Dhoni's presence in the middle order. As backup selectors may pick Ambati Rayudu, Manoj Tiwari, Manish Pandey or may be Sanju Samson.
Selectors may also think about selecting Gautam Gambhir, Yuvraj Singh, Yusuf Pathan for Indian batting line-up. These 3 players played crucial role in winning 2007 world t20 trophy. But the fact is these three top guns are not performing in domestic cricket and are out of the national time for quite long time. So there is low possibility that these will be picked.
All-rounders
Ravindra Jadeja will be the prime choice as specialist all-rounder in the side. Rohit Sharma and Suresh Raina can also bowl a bit so no need for selectors to include one more all-rounder. If any case Jadeja misses out the tournament, team management can move to Stuart Binny or maybe Yusuf Pathan.
Bowlers
Bhuvneshwar Kumar, Mohammad Shami, Ravichandran Ashwin, Mohit Sharma and Ishant Sharma will be the bowlers in the list of India's squad for 2016 T20 world cup. Amit Mishra can also be included in the side as leg spinner. Selectors will have to think more about bowlers inclusion as there is healthy competition among pace bowlers.
Umesh Yadav, Varun Aaron, Ishant Sharma and Mohit Sharma are top fast bowlers who are in the row for selection. The tournament will be played in Indian conditions hence spinners will play vital role on the Indian soil so as per expectations selectors will pick 4-5 fast bowlers. Spinners Axar Patel and Harbhajan Singh are also in the race for India's world twenty20 squad.
Expected Team India for wt20 2016
MS Dhoni (Captain/Wicket-keeper)
Shikhar Dhawan
Rohit Sharma
Virat Kohli
Suresh Raina
Ajinkya Rahane
Yuvraj Singh
Ravindra Jadeja
Ravichandran Ashwin
Harbhajan Singh
Ishant Sharma
Bhuvneshwar Kumar
Mohit Sharma
Amit Mishra
Mohammad Shami
What do you think this India's squad for 20-20 world cup 2016? Can India win it?