Sri Lanka spinner Rangana Herath has indicated that he might get retired after ICC World T20 next year in India. 37-year old bowler accepts that he is struggling with fitness and health but this is not the time to take final decision on retirement. He has mentioned that he'll take decision on this after the completion of wt20 2016.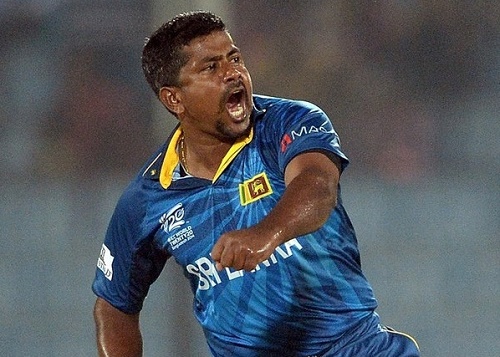 Rangana Herath has been a part of Sri Lankan camp for 6-7 years. He took the responsibility of spin department after Muttiah Muralitharan's retirement. Herath played crucial role in Sri Lanka's 2014 world twenty20 win and he is desperate to defend the title.
Herath said, "If I put a target to end my career I will not be able to give my maximum to the team. Every time I play I look to give 100% to the team. But before long I will have to take a decision on my future. I will decide after the World T20 which is to be played in India next year. We are the reigning champions and we have a good chance of defending it with the present team although they lack in a bit in experience."
The biggest reason for Herath's retirement plan is his knee injury. He had a successful knee operation in 2011. Since then he has been bowling and doesn't get problem with bowling but sometimes when he fields and runs, gets pain.
"I did an operation on both knees in 2011 for damaged cartilage. I had a clean-up and I had no problem playing after that. But of late I have been getting pains. I sometimes get the pain on my knees when I start to run but not when I am bowling. I have been working with the physios, trainers and the medical staff how best to manage my injury and taking tablets and taping myself when I play in matches," he added.
Sri Lanka will be the defending champion in 2016 championship which is scheduled to play between 11 March and 3 April.