It will be sixth occasion when twenty20 world cup will be organised in the due course of 8 years. 16 teams will be participating in the 2016 ICC World T20 just like 2014 event played in Bangladesh. India will be hosting this ICC's prestigious 20-20 championship for the first time.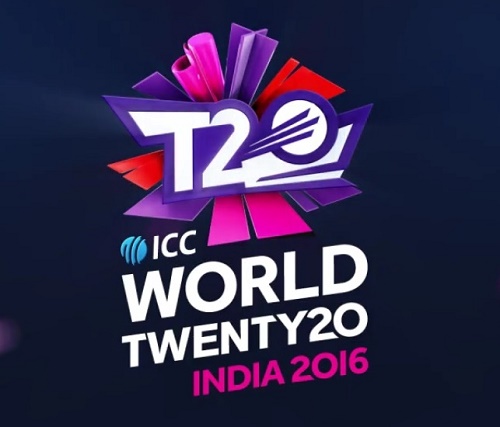 Tournament has been scheduled to play from 8th of March to 3rd of April 2016 in 8 different venues of India. First group stage match will be played on March 8 and final match of championship is decided to be hosted at Eden Gardens in Kolkata on 3 April. Sri Lanka will be the title defending team in 6th ICC Wt20. A total of 35 matches will be played throughout the event.
For women's world t20 2016 schedule go here.
Schedule
Date
Match (IST)
Fixture
Venue
Result

First Stage

8 March 2016
15:00
Zimbabwe vs Hong Kong
Nagpur
Zimbabwe won by 14 runs
19:30
Scotland vs Afghanistan
Nagpur
Afghanistan won by 14 runs
9 March 2016
15:00
Bangladesh vs Netherlands
Dharamsala
Bangladesh won by 8 runs
19:30
Ireland vs Oman
Dharamsala
Oman won by 2 wickets
10 March 2016
15:00
Scotland vs Zimbabwe
Nagpur
Zimbabwe won by 11 runs
19:30
Hong Kong vs Afghanistan
Nagpur
Afghanistan won by 6 wickets
11 March 2016
15:00
Netherlands vs Oman
Dharamsala
Match abandoned due to rain
19:30
Bangladesh vs Ireland
Dharamsala
Match abandoned due to rain
12 March 2016
15:00
Zimbabwe vs Afghanistan
Nagpur
Afghanistan won by 59 runs
19:30
Scotland vs Hong Kong
Nagpur
Scotland won by 8 wickets
13 March 2016
15:00
Netherlands vs Ireland
Dharamsala
Netherlands won by 12 runs
19:30
Bangladesh vs Oman
Dharamsala
Bangladesh won by 54 runs

Super-10 Stage

15 March 2016
19:30
India vs New Zealand
Nagpur
New Zealand won by 47 runs
16 March 2016
19:30
West Indies vs England
Mumbai
West Indies won by 6 wickets
15:00
Pakistan vs Bangladesh
Kolkata
Pakistan won by 55 runs
17 March 2016
19:30
Sri Lanka vs Afghanistan
Kolkata
Sri Lanka won by 6 wickets
18 March 2016
15:00
Australia vs New Zealand
Dharamsala
New Zealand won by 8 runs
19:30
South Africa vs England
Mumbai
England won by 2 wickets
19 March 2016
19:30
India vs Pakistan
Kolkata
India won by 6 wickets
20 March 2016
15:00
South Africa vs Afghanistan
Mumbai
South Africa won by 37 runs
19:30
Sri Lanka vs West Indies
Bengaluru
West Indies won by 7 wickets
21 March 2016
19:30
Australia vs Bangladesh
Bengaluru
Australia won by 3 wickets
22 March 2016
19:30
New Zealand vs Pakistan
Mohali
New Zealand won by 22 runs
23 March 2016
15:00
England vs Afghanistan
New Delhi
England won by 15 runs
19:30
India vs Bangladesh
Bengaluru
India won by 1 run
25 March 2016
15:00
Pakistan vs Australia
Mohali
Australia won by 21 runs
19:30
South Africa vs West Indies
Nagpur
West Indies won by 3 wickets
26 March 2016
15:00
New Zealand vs Bangladesh
Kolkata
New Zealand won by 75 runs
19:30
England vs Sri Lanka
New Delhi
England won by 10 runs
27 March 2016
15:00
Afghanistan vs West Indies
Nagpur
Afghanistan won by 6 runs
19:30
India vs Australia
Mohali
India won by 6 wickets
28 March 2016
19:30
South Africa vs Sri Lanka
New Delhi
South Africa won by 8 wickets
30 March 2016
19:00
SF-1: England vs New Zealand
New Delhi
England won by 7 wickets
31 March 2016
19:00
SF-2: West Indies vs India
Mumbai
West Indies won by 7 wickets
3 April 2016
19:00
Final: England vs West Indies
Kolkata