Legendary cricketers Sachin Tendulkar and Shane Warne want to see cricket make comeback in Olympic Games. Both players think twenty20 format is an exciting cricket format that can be included in Olympics.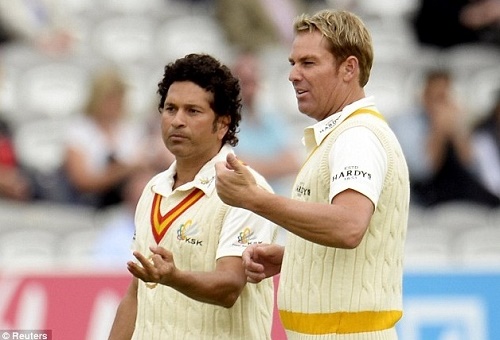 Former Indian batting legend Tendulkar said, "I think it's a great idea and I reckon T20 is the best format for it."Warne and Tendulkar are captaining rival teams in a series of three Twenty20 All Star matches in the United States in November as they seek to use their fame to help globalise the game."
"It's the most acceptable format for people who don't have any knowledge about cricket or the ones who need an introduction to cricket. The game is over in three hours and it's like any sport — you go to a stadium and after three hours you get back to your work."
Cricket sport was played last time in 1900 Summer Olympics. Since then there is no inclusion of cricket in the Olympic Games. Next month in mid-November ICC officials will be meeting with IOC officials to have talks regarding cricket's inclusion in Olympics.
Australia great spinner mentioned that t20 cricket will be ideal format for the Olympics as it gets over in 3 hours.
Shane Warne said, "I haven't seen a game of indoor cricket for a long time so I don't know how good indoor cricket is at the moment. But the last time I saw it, it was fantastic — so hopefully they have grown a different skill for it."
"Ideally, I'd stick to Twenty20 because it's over in three hours, it's easy to organise and you play two or three games a day. I'd include the associate nations because it's helping spread the word of cricket," Warne added.