Indian team's new outfit has been released for both men's and women's ICC World Twenty20 event in India. Nike has been the official sponsor for Men in Blue's jersey and kit over the years. Board of Cricket Control in India (BCCI) tweeted the official dress for both teams on twitter entitled as "Chase Greatness". Traditional blue color is still with Indian jersey on which "Star" is printed big and bold as it is the official sponsor for Men in Blue.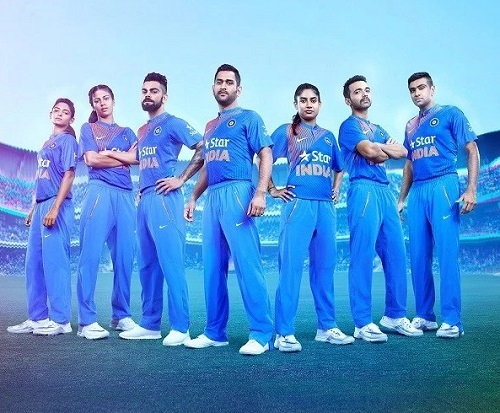 Both men's and women's teams captain were featured in the group photo wearing new kit for WT20. MS Dhoni and Mithali Raj can easily be found in the image shown above. Vice Captain Virat Kohli, Ajinkya Rahane, Ravichandran Ashwin also posed gesture for this new outfit unveiling.
Mithali Raj said, "At every stage, the meaning of wearing India jersey changes. When you are the senior player, you have everyone on your shoulders and you can't let them down. When you are a debutant, you are playing for yourself and all those people who have made you a player. It is different, but when I don the signature blue kit, I carry it proudly, believing I will win."
Middle order batsman Ajinkya Rahane said, "Wearing the kit, going out there and playing for my country – it's an overwhelming feeling, which is almost impossible to express in words. But whenever I wear the kit, I believe I'm a hero."
Check more: Indian players photos in new jersey
Nike pointed 4 key features of Indian team kit:
1. Clean modern aesthetic – Laminated modern collar. Newly moulded BCCI crest.
2. Made for movement and cooling – 4-way stretch fabric construction. High recovery bonding on sleeve hem. Laser cut technology.
3. Statement graphic – Flow lines and disruptive optics. Evolved tri-colour pride.
4. Dri-fit fabric – 100% recycled polyester. Stretchable shell fabric. Engineered mesh for specific back sweat zones.
India won inaugural edition of T20 world cup in 2007 and will be looking to win the sixth edition of championship beginning from 8th March which will conclude on 3rd April 2016 in Kolkata.