United States of America based cricket viewers will be able to catch all live action of ICC T20 world cup 2016 in India on their television sets as well as on internet. Willow TV International has got the official broadcasting rights to air live International Cricket Council events in USA. It will telecast world twenty20 2016 live on television as well as online streaming.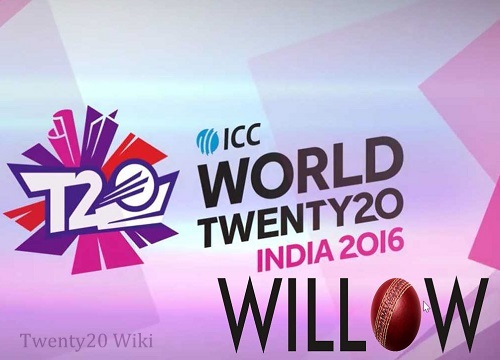 Willow TV will be broadcasting all 35 matches of men's event along with 11 games from women's twenty20 world cup 2016. Mr. Vijay Srinivasan, CEO of Willow TV International said that they were exciting to have coverage rights for ICC World T20. Lots of spectators based in USA would be eager to watch all live games of wt20.
He said, "We are excited to provide unparalleled coverage of the ICC World Twenty20 live to sports fans in the United States. As one of the fastest growing sports networks in the US, it is our mission to bring the best international cricket live to American audiences.  Previous tournaments of the stature of the ICC events have only been available as pay-per-view, so to have the entire tournaments live on our network is a significant milestone for cricket in the US."
ICC Commercial General Manager Mr. Campbell Jamieson said, "The extensive coverage promised from Willow for the ICC World Twenty20 demonstrates the spirit and commitment of the partnership.  ICC is looking forward to capitalizing on the growing popularity of cricket in the United States, supported by broadcast initiatives from Willow, to make cricket the World's Favorite Sport."
"We are particularly excited to bring cricket home to American audiences in a supreme broadcasting format.  This is a first for viewers in America and the partnership with Willow TV International is a significant long-term commitment towards the sport and engaging public interest in a targeted and sustainable manner. We are hoping cricket grips America by storm and fulfills the dream of a growing number of cricket fans who enjoy watching the game as much as they enjoy playing it," a Star Middle East spokesperson said in a statement.
Willow TV has also got rights to broadcast 2017 ICC Champions Trophy, 2017 ICC Women's world cup, 2018 ICC World Cup Qualifiers, 2018 Women's world t20 and ICC World Cup 2019.
India will host sixth season of World Twenty20 from 8 March. It will be first occasion when the Asia Giant will organize prestigious t20 world cup since it's inaugural edition in 2007 at South Africa. India, England, Sri Lanka, Pakistan and West Indies have already won the prestigious twenty20 world cup.