Biggest T20 cricket summer is set to start in India from 8th March when 16 cricketing nations will be participating in ICC World Twenty20's sixth edition. It's a world wide event and many of cricket fans and viewers around the globe will be interested to watch live broadcast and telecast of T20 world cup 2016.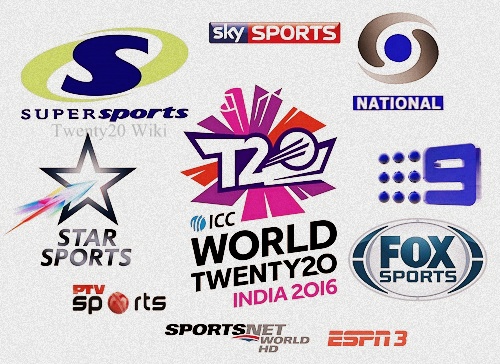 Star Sports India is the official broadcasting partner of International Cricket Council, hence it will bring live coverage of matches in Indian sub-continent parts. India, Sri Lanka, Pakistan, Bangladesh, Bhutan, Maldives, Nepal based cricket fans will be able to watch live telecast of ICC World T20 2016 on television sets. Afghanistan based fans can also watch matches on Star Sports. Star Sports is a paid service media broadcasting network.
To watch matches for free in sub-continent region, there are domestic TV networks which will air live twenty20 world cup games. DD National (India), PTV Sports (Pakistan), SLRC (Sri Lanka),  BTV (Bangladesh), Ariana Network (Afghanistan) to telecast live T20 cricket matches.
Check more: Squads for world t20 2016
Sky Sports will air live cricket matches in United Kingdom and New Zealand territories. BBC will also provide live commentary, match highlights in UK region. Australia based viewers will be able to catch all the live action on Fox Sports and Channel 9.
Let's have a look at the complete list of TV channels network for wt20.
T20 World Cup 2016 Broadcasters
| | |
| --- | --- |
| Country/ Region | Broadcasting Network (s) |
| India | Star Sports, DD national |
| Pakistan | Star Sports, PTV Sports |
| Sri Lanka | Star Sports, SLRC |
| Bangladesh | Star Sports, BTV |
| Australia | Fox Sports, Channel 9 |
| New Zealand | Sky Sports |
| Thailand | Star Sports |
| Afghanistan | Star Sports, Ariana TV Network |
| United Kingdom | Sky Sports, BBC |
| USA | Willow TV, ESPN3 |
| Caribbean | ESPN |
| South Africa | SuperSports |
| Middle East | OSN Sports |
| Canada | Sportsnet, Willow TV |
There will be 12 first stage games and 23 super-10 round matches played throughout the sixth edition of ICC World T20. In women's world twenty20 2016 event there will be 23 games played from 15 March to 3 April. So it will be an interesting competition to watch out.
Check more: How to watch ICC World T20 2016 live streaming
Men's world t20 schedule
Date
Match
Fixture
Venue
8 March 2016
Match 1
Zimbabwe vs Hong Kong
Nagpur
Match 2
Scotland vs Afghanistan
Nagpur
9 March 2016
Match 3
Bangladesh vs Netherlands
Dharamsala
Match 4
Ireland vs Oman
Dharamsala
10 March 2016
Match 5
Scotland vs Zimbabwe
Nagpur
Match 6
Hong Kong vs Afghanistan
Nagpur
11 March 2016
Match 7
Netherlands vs Oman
Dharamsala
Match 8
Bangladesh vs Ireland
Dharamsala
12 March 2016
Match 9
Zimbabwe vs Afghanistan
Nagpur
Match 10
Scotland vs Hong Kong
Nagpur
13 March 2016
Match 11
Netherlands vs Ireland
Dharamsala
Match 12
Bangladesh vs Oman
Dharamsala
15 March 2016
Match 13
India vs New Zealand
Nagpur
16 March 2016
Match 14
Pakistan vs Bangladesh
Kolkata
Match 15
West Indies vs England
Mumbai
17 March 2016
Match 16
Sri Lanka vs Afghanistan
Kolkata
18 March 2016
Match 17
Australia vs New Zealand
Dharamsala
Match 18
South Africa vs England
Mumbai
19 March 2016
Match 19
India vs Pakistan
Dharamsala
20 March 2016
Match 20
South Africa vs Afghanistan
Mumbai
Match 21
Sri Lanka vs West Indies
Bengaluru
21 March 2016
Match 22
Australia vs Bangladesh
Bengaluru
22 March 2016
Match 23
New Zealand vs Pakistan
Mohali
23 March 2016
Match 24
England vs Afghanistan
New Delhi
Match 25
India vs Bangladesh
Bengaluru
25 March 2016
Match 26
Pakistan vs Australia
Mohali
Match 27
South Africa vs West Indies
Nagpur
26 March 2016
Match 28
New Zealand vs Bangladesh
Kolkata
Match 29
England vs Sri Lanka
New Delhi
27 March 2016
Match 30
Afghanistan vs West Indies
Nagpur
Match 31
India vs Australia
Mohali
28 March 2016
Match 32
South Africa vs Sri Lanka
New Delhi
30 March 2016
Match 33
Semi-Final 1st
New Delhi
31 March 2016
Match 34
Semi-Final 2nd
Mumbai
3 April 2016
Match 35
Final
Kolkata
Women's world t20 2016 schedule
| | | | |
| --- | --- | --- | --- |
| Date | Match | Fixture | Venue |
| 15 March | Match 1 | India vs Bangladesh | Bengaluru |
| | Match 2 | New Zealand vs Sri Lanka | New Delhi |
| 16 March | Match 3 | West Indies vs Pakistan | Chennai |
| 17 March | Match 4 | England vs Bangladesh | Bengaluru |
| 18 March | Match 5 | New Zealand vs Ireland | Mohali |
| | Match 6 | Australia vs South Africa | Nagpur |
| 19 March | Match 7 | India vs Pakistan | New Delhi |
| 20 March | Match 8 | West Indies vs Bangladesh | Chennai |
| | Match 9 | Sri Lanka vs Ireland | Mohali |
| 21 March | Match 10 | Australia vs New Zealand | Nagpur |
| 22 March | Match 11 | India vs England | Dharamsala |
| 23 March | Match 12 | South Africa vs Ireland | Chennai |
| 24 March | Match 13 | Australia vs Sri Lanka | New Delhi |
| | Match 14 | England vs West Indies | Dharamsala |
| | Match 15 | Pakistan vs Bangladesh | New Delhi |
| 26 March | Match 16 | Australia vs Ireland | New Delhi |
| | Match 17 | South Africa vs New Zealand | Bengaluru |
| 27 March | Match 18 | India vs West Indies | Mohali |
| | Match 19 | England vs Pakistan | Chennai |
| 28 March | Match 20 | South Africa vs Sri Lanka | Bengaluru |
| 30 March | Match 21 | Semi-Final 1st | New Delhi |
| 31 March | Match 22 | Semi-Final 2nd | Mumbai |
| 3 April | Match 23 | Final | Kolkata |