India's greatest opener Virender Sehwag has said that India-Pakistan's 2007 ICC World Twenty20 tied match is his favorite moment and memory in Indo-Pak clash. The two arch rivals first time ever met in the inaugural edition of t20 world cup in South Africa and Men in Blue beat Pakistan in the bowl-out after the match ended at tied.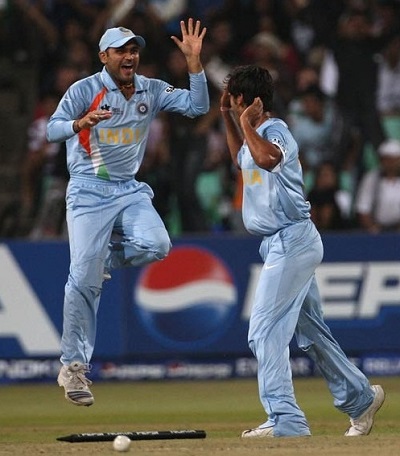 Sehwag quoted in a Circbuzz PR released, "My best India v Pakistan moment is from our first match in the ICC World T20 2007, which was a tie. Nobody thought that the first encounter between the two countries in the first World T20, would be a tie. At the time, the rule was that if the match ended in a tie, it would go to a bowl-out."
"We had practiced for this prior to the contest, wherein Robin Uthappa, Harbhajan Singh and I hit the stumps the most number of times. So, I told MS (Dhoni) that I would like to bowl first. I was confident that if I go first, I'll surely 'disturb the furniture', which is what actually happened. We were 1-0 up. This was followed by hits from Harbhajan and Uthappa. The stadium erupted thereafter. Harbhajan jumped on Yuvraj and hugged him. Everyone broke into a loud cry of 'Bharat Mata Ki Jai!' and started to sing along, 'Chak De India', which was quite popular at the time," Sehwag added.
The destructive opening batsman believes that India will win against Pakistan on 19 Match in a crucial do or die game at Eden Gardens. He said, "I think the scenes will be no different on March 19 when the two sides meet again at Kolkata."