Veteran China man Australian leg spinner Brad Hogg has quit from Big Bash League club Perth Scorchers for the upcoming 2016-17 edition of championship. As per reports to be believed Hogg is expected to play for Melbourne Renegades in the sixth season of BBL starting from 20th December.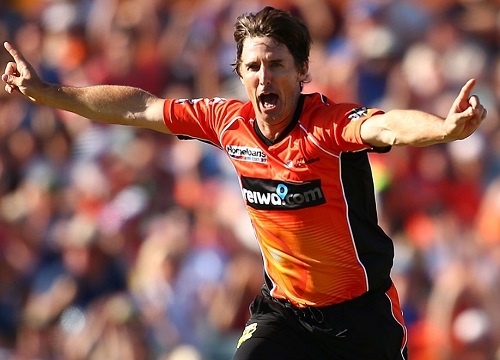 Brad Hogg was associated with the orange club since the first edition of Big Bash League in 2011-12. He took 46 wickets for Scorchers in previous 5 editions of tournament. Coach Justin Langer is quite disappointed with Hogg's decision and he told reporters that he knew where the spinner was moving.
Langer said, "Very disappointing. I know [where he's going], but I can't tell you where he's going. But he's leaving the Scorchers. I'm really disappointed about that. What can I say? I'm personally disappointed, professionally disappointed, but it's his decision and life goes on. In my opinion he's made a wrong decision, that's okay, that's not my business. But I can go to bed at night knowing we offered him more money than we offered him last year, we think we've had as good deal with him for the last few years and it could have been a real win-win situation for him and us."
"But we wish him the best, we've been friends since we went to school together. I think he's been brilliant for the Scorchers. I think on and off the field he is fantastic, he's a good friend of mine but it's disappointing," Langer added.
Perth Scorchers appeared in the final of first four editions of KFC Big Bash League and Hogg played major role in that. Club won BBL championship in 3rd and 4th season.