Indian cricket team has reached to the final of 2016 Asia Cup by defeating Sri Lanka in the 7th match of tournament played at Mirpur. India won by 5 wickets against title defending champion of the competition to knock them out of the event. Virat Kohli was named Man of The Match for his brilliant unbeaten fifty.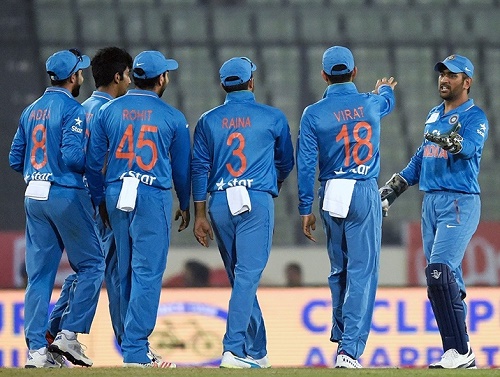 This was the third consecutive win for Men in Blue in Micromax Asia Cup 2016. In this match, Indian captain MS Dhoni won toss and asked Sri lanka to bat. Lankan team lost two wickets in the first six overs of the match. Then some fine contributions from middle order batsmen Kapugedera, Mathews, Siriwardana, Perera and Kulasekara, Sri Lanka managed to put 138 runs on the board.
It was not an easy target for India on this bowling supportive pitch but when Virat Kohli is in tremendous form, no one can stop him to score runs. He played brilliant innings and led team towards the win of 5 wickets. He made unbeaten 57 runs in 46 balls. The main highlight of the match was Yuvraj Singh who smashed 35 runs in 18 balls to show that he is getting back in the form again.
Yuvraj hit 3 sixes and 3 fours in this short and quick firing innings. Virat hit the winning boundary for India and confirmed team's entrance in the 2016 Asia Cup final which is scheduled to play on 6th April.