Indian Premier League 2018 Points Table
Eight teams play in Indian Premier League every year and all sides faced off each other twice in the group stage of championship. Hence every team gets 14 matches in the league round and then top 4 teams enter in the knockouts i.e. playoffs.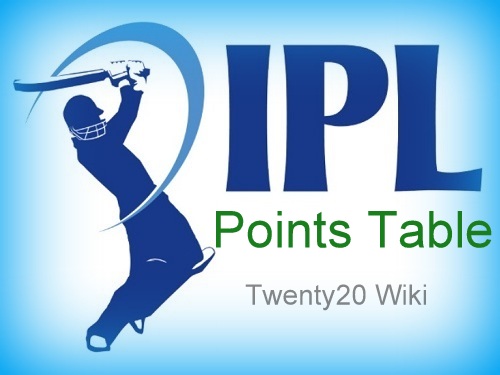 Let's have a look at the teams standing, position in IPL 2018 points table.
IPL 2018 Points Table
| | | | | | | |
| --- | --- | --- | --- | --- | --- | --- |
| Team | Matches | Won | Lost | Tie/No Result | Points | Net RR. |
| Mumbai Indians | 0 | 0 | 0 | 0 | 0 | 0.00 |
| Royal Challengers Bangalore | 0 | 0 | 0 | 0 | 0 | 0.00 |
| Sunrisers Hyderabad | 0 | 0 | 0 | 0 | 0 | 0.00 |
| Kolkata Knight Riders | 0 | 0 | 0 | 0 | 0 | 0.00 |
| Kings XI Punjab | 0 | 0 | 0 | 0 | 0 | 0.00 |
| Delhi Daredevils | 0 | 0 | 0 | 0 | 0 | 0.00 |
| Rajasthan Royals | 0 | 0 | 0 | 0 | 0 | 0.00 |
| Chennai Super Kings | 0 | 0 | 0 | 0 | 0 | 0.00 |
IPL 2017 Points Table
| | | | | | | |
| --- | --- | --- | --- | --- | --- | --- |
| Team | Matches | Won | Lost | Tie/No Result | Points | Net RR. |
| Mumbai Indians | 14 | 10 | 4 | 0 | 20 | 0.78 |
| Rising Pune Supergiant | 14 | 9 | 5 | 0 | 18 | 0.17 |
| Sunrisers Hyderabad | 14 | 8 | 5 | 1 | 16 | 0.59 |
| Kolkata Knight Riders | 14 | 8 | 6 | 0 | 16 | 0.64 |
| Kings XI Punjab | 14 | 7 | 7 | 0 | 14 | -0.00 |
| Delhi Daredevils | 14 | 6 | 8 | 0 | 12 | -0.51 |
| Gujarat Lions | 14 | 4 | 10 | 0 | 8 | -0.41 |
| Royal Challengers Bangalore | 14 | 3 | 10 | 1 | 6 | -1.29 |