Lahore Qalandars are the professional twenty20 cricket team that plays in Pakistan Super League and represents Pakistan's Lahore city in the competition. Qatar Lubricants Company's Managing Director Mr. Rana Fawad is the owner of Lahore franchise in the competition and team was purchased for the second highest bid in the league i.e. 24 Million USD. Gaddafi Stadium is the official ground of Lahore Qalandars.
Pakistan cricket team's limited over captain Azhar Ali led the side in first edition of competition but for 2017 Pakistan Super League, team announced Brendon McCullum as the captain. South Africa's former cricketer and coach Paddy Upton was named head coach of Lahore Qalandars ahead of 2016 Pakistan Super League. However team couldn't perform well in the first PSL season and managed to win just two matches.
Team Name and Logo
Lahore team franchise owner Fawad Rana unveiled the official team name and logo on 12 December, 2015. The Qalandars name is quite unique and non-popular name in the cricket world, hence he decided to give team name Lahore Qalandars. As per Mr. Rana, the team name was chosen to represent Sufi culture of Lahore city. Here in the name "Q" represents Qatar and QALCO.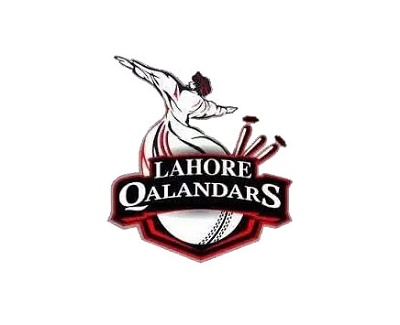 The team logo features a sufi saint performing Dervish whirls around the stumps. Just below "Lahore Qalandars" team name, a cricket ball is also featured in the logo.
Team Jersey
Lahore Qalandars players have been wearing red and black kit during the matches.
Squad
Lahore Qalandars traded West Indies spin bowler Sunil Narine in the off-season transfer window to Quetta Gladiators. Qalandars also traded to Umar Akmal. At the place of these two, Lahore acquired Hassan Khan and Rahat Ali Ahead of players draft for fourth PSLT20 edition.
Qalandars also released former New Zealand captain Brendon McCullum who lead the team in 2018 PSL season.
Let's have a look at the complete squad of Lahore Qalandars for 2018 PSLT20.
Lahore Qalandars Squad 2019
| | | |
| --- | --- | --- |
| Player | Country | Role |
| Hassan Khan | Pakistan | Bowler |
| Rahat Ali | Pakistan | Bowler |
Official Online Presence
Website: www.lahoreqalandars.com
Twitter: Lahore Qalandars
Facebook: Lahore Qalandars