Our report becomes verified today when IPL announced schedule for 2016 edition and Mumbai Indians and Rising Pune Supergiants will take on each other in the opening match of tournament on 9th April. We reported earlier that IPL 2016's first match will be played between Pune and Mumbai, and it becomes true. We also mentioned that schedule would announce on Wednesday but it didn't happen yesterday as officials were busy to solve indo-pak wt20 match venue issue.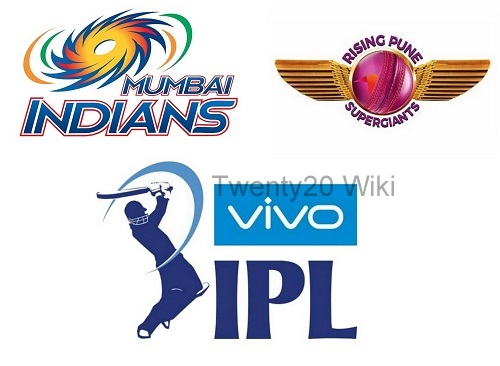 We also reported that first qualifier of the tournament will be played on 24 whereas eliminator to be held on 27. We said, "Two qualifiers, 1 eliminator and final match are to play during 6-day time period. The first qualifier match will be played on 24 May between the top two teams of the group stage and winner of this match will proceed to final. Loser of this game will have one more chance to play second qualifier on 27 May which will be against the winner of Eliminator which will be played on 25 May, 2016."
10 venues Mumbai, Kolkata, Mohali, Bengaluru, Rajkot, Delhi, Hyderabad, Pune, Nagpur and Raipur will host 58 matches of Indian Premier League ninth edition. Two Gujarat Lions matches venue are yet to be confirmed. Match 51 and 54 venues are not declared.
IPL Chairman Mr. Rajiv Shukla said, "All the top players from around the world will be seen in action this year. This season the IPL will be played at 10 venues – Mohali, Delhi, Mumbai, Nagpur, Pune, Bengaluru, Hyderabad, Kolkata, Rajkot and Raipur. I am excited to join the fans to see a lot of exciting cricket over the next three months."
Mumbai Indians are the title defending champions in the competition.
IPL 2016 Schedule
Date
Match
Fixture
Venue
9 April 2016
Match 1
Mumbai vs Pune
Mumbai
10 April 2016
Match 2
Kolkata vs Delhi
Kolkata
11 April 2016
Match 3
Punjab vs Gujarat
Mohali
12 April 2016
Match 4
Bangalore vs Hyderabad
Bengaluru
13 April 2016
Match 5
Kolkata vs Mumbai
Kolkata
14 April 2016
Match 6
Gujarat vs Pune
Rajkot
15 April 2016
Match 7
Delhi vs Punjab
Delhi
16 April 2016
Match 8
Hyderabad vs Kolkata
Hyderabad
Match 9
Mumbai vs Gujarat
Mumbai
17 April 2016
Match 10
Punjab vs Pune
Mohali
Match 11
Bangalore vs Delhi
Bengaluru
18 April 2016
Match 12
Hyderabad vs Mumbai
Hyderabad
19 April 2016
Match 13
Punjab vs Kolkata
Mohali
20 April 2016
Match 14
Mumbai vs Bangalore
Mumbai
21 April 2016
Match 15
Gujarat vs Hyderabad
Rajkot
22 April 2016
Match 16
Pune vs Bangalore
Pune
23 April 2016
Match 17
Delhi vs Mumbai
Delhi
Match 18
Hyderabad vs Punjab
Hyderabad
24 April 2016
Match 19
Gujarat vs Bangalore
Rajkot
Match 20
Pune vs Kolkata
Pune
25 April 2016
Match 21
Punjab vs Mumbai
Mohali
26 April 2016
Match 22
Hyderabad vs Pune
Hyderabad
27 April 2016
Match 23
Delhi vs Gujarat
Delhi
28 April 2016
Match 24
Mumbai vs Kolkata
Mumbai
29 April 2016
Match 25
Pune vs Gujarat
Pune
30 April 2016
Match 26
Delhi vs Kolkata
Delhi
Match 27
Hyderabad vs Bangalore
Hyderabad
1 May 2016
Match 28
Gujarat vs Punjab
Rajkot
Match 29
Pune vs Mumbai
Pune
2 May 2016
Match 30
Bangalore vs Kolkata
Bengaluru
3 May 2016
Match 31
Gujarat vs Delhi
Rajkot
4 May 2016
Match 32
Kolkata vs Punjab
Kolkata
5 May 2016
Match 33
Delhi vs Pune
Delhi
6 May 2016
Match 34
Hyderabad vs Gujarat
Hyderabad
7 May 2016
Match 35
Bangalore vs Pune
Bengaluru
Match 36
Punjab vs Delhi
Nagpur
8 May 2016
Match 37
Mumbai vs Hyderabad
Mumbai
Match 38
Kolkata vs Gujarat
Kolkata
9 May 2016
Match 39
Punjab vs Bangalore
Nagpur
10 May 2016
Match 40
Pune vs Hyderabad
Pune
11 May 2016
Match 41
Bangalore vs Mumbai
Bengaluru
12 May 2016
Match 42
Hyderabad vs Delhi
Hyderabad
13 May 2016
Match 43
Mumbai vs Punjab
Mumbai
14 May 2016
Match 44
Bangalore vs Gujarat
Bengaluru
Match 45
Kolkata vs Pune
Kolkata
15 May 2016
Match 46
Mumbai vs Delhi
Mumbai
Match 47
Punjab vs Hyderabad
Nagpur
16 May 2016
Match 48
Kolkata vs Bangalore
Kolkata
17 May 2016
Match 49
Pune vs Delhi
Pune
18 May 2016
Match 50
Bangalore vs Punjab
Bengaluru
19 May 2016
Match 51
Gujarat vs Kolkata
TBC
20 May 2016
Match 52
Delhi vs Hyderabad
Raipur
21 May 2016
Match 53
Pune vs Punjab
Pune
Match 54
Gujarat vs Mumbai
TBC
22 May 2016
Match 55
Kolkata vs Hyderabad
Kolkata
Match 56
Delhi vs Bangalore
Raipur
24 May 2016
Match 57
Qualifier 1
Bengaluru
25 May 2016
Match 58
Eliminator
Pune
27 May 2016
Match 59
Qualifier 2
Pune
29 May 2016
Match 60
Final
Mumbai