The second edition of Mzansi Super League has been scheduled to start on 8th November 2019 and the final of tournament will be played on December 16th. A total of six teams to take participation in MSL T20 competition that includes 32 matches.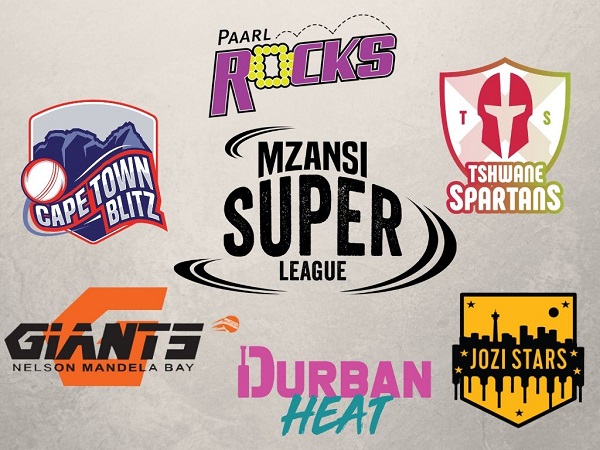 Six venues will host the matches of Mzansi Super League 2019 across South African cities. Durban Heat, Jozi Stars, Paarl Rock, Cape Town Blitz, Tshwane Spartans and Nelson Mandela Giants are the 6 participating teams in South African twenty20 league.
Let's have a look at the complete schedule and fixtures of Mzansi Super League 2019.
Mzansi Super League 2019 Schedule, Fixtures
DATE
MATCH
FIXTURE
VENUE
8 November
Match 1
Jozi Stars v Cape Town Blitz
Bidvest Wanderers Stadium
9 November
Match 2
Durban Heat v Tshwane Spartans
Kingsmead
10 November
Match 3
Paarl Rocks v Cape Town Blitz
Eurolux Boland Park
Match 4
Nelson Mandela Bay Giants v Jozi Stars
St. George's Park
13 November
Match 5
Tshwane Spartans v Nelson Mandela Bay Giants
SuperSport Park
14 November
Match 6
Cape Town Blitz v Jozi Stars
Newlands
15 November
Match 7
Durban Heat v Paarl Rocks
Kingsmead
16 November
Match 8
Jozi Stars v Nelson Mandela Bay Giants
Bidvest Wanderers Stadium
17 November
Match 9
Durban Heat v Cape Town Blitz
Kingsmead
Match 10
Paarl Rocks v Tshwane Spartans
Eurolux Boland Park
20 November
Match 11
Nelson Mandela Bay Giants v Cape Town Blitz
St. George's Park
21 November
Match 12
Tshwane Spartans v Durban Heat
SuperSport Park
22 November
Match 13
Paarl Rocks v Jozi Stars
Eurolux Boland Park
23 November
Match 14
Nelson Mandela Bay Giants v Durban Heat
St. George's Park
24 November
Match 15
Cape Town Blitz v Paarl Rocks
Newlands
Match 16
Jozi Stars v Tshwane Spartans
Bidvest Wanderers Stadium
27 November
Match 17
Nelson Mandela Bay Giants v Paarl Rocks
St. George's Park
28 November
Match 18
Cape Town Blitz v Durban Heat
Newlands
29 November
Match 19
Tshwane Spartans v Paarl Rocks
SuperSport Park
30 November
Match 20
Durban Heat v Nelson Mandela Bay Giants
Kingsmead
1 December
Match 21
Jozi Stars v Paarl Rocks
Bidvest Wanderers Stadium
Match 22
Cape Town Blitz v Tshwane Spartans
Newlands
3 December
Match 23
Nelson Mandela Bay Giants v Tshwane Spartans
St. George's Park
4 December
Match 24
Paarl Rocks v Durban Heat
Eurolux Boland Park
5 December
Match 25
Tshwane Spartans v Jozi Stars
SuperSport Park
6 December
Match 26
Cape Town Blitz v Nelson Mandela Bay Giants
Newlands
7 December
Match 27
Jozi Stars v Durban Heat
Bidvest Wanderers Stadium
8 December
Match 28
Paarl Rocks v Nelson Mandela Bay Giants
Eurolux Boland Park
Match 29
Tshwane Spartans v Cape Town Blitz
SuperSport Park
10 December
Match 30
Durban Heat v Jozi Stars
Kingsmead
13 December
Match 31
Eliminator: 2nd vs 3rd
TBC
16 December
Match 32
Final: 1st vs Eliminator Winner
TBC
Download: MSL 2019 Schedule PDF
Which two teams do you think will be making cut to the final of 2019 Mzansi Super League? Share your views in the comment area.