Royal Challengers Bangalore have become first Indian Premier League team to launch home and away kits in the ninth edition of tournament. RCB launched a photo on their facebook's official page to display the first look of latest apparel.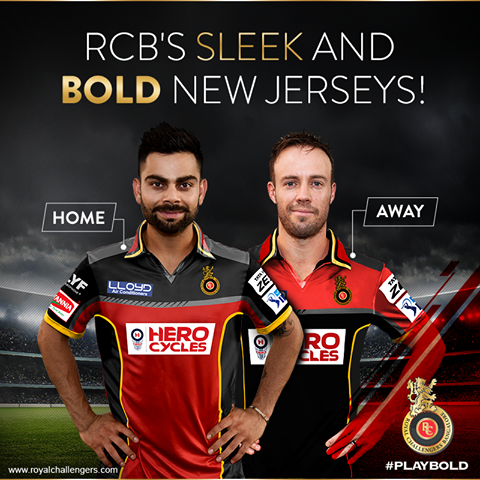 The jersey was unveiled during the live event which was broadcasted by RCB on Facebook. Virat Kohli wears the home kit while Ab de Villiers was seen in away kit. Hero Cycles, Britannia, Lloyd are the sponsor partners with Royal Challengers Bangalore, hence these brands are featured on jersey. Black and Red color combination is used to design the new dress for RCB team.
Home Kit
Royal Challengers Bangalore home kit is having black color design on the shoulder and chest while from chest to bottom red color is used. Red has been traditional color for RCB team over the years. Yellow color strips are also used on the t-shirt.
Away Kit
RCB's away kit is just opposite in the composition and design pattern. From shoulders to chest, red color is used while black color is printed from chest to bottom.