West Indies Mystery bowler Sunil Narine bowled first ever maiden super over in the history of twenty20 cricket during 2014 Caribbean Premier League season. This was the first occasion in t20 cricket history when a bowler bowled maiden over in a super over decider. He took one wicket as well in this super over against Red Steel. He became the first bowler ever to bowl maiden super over. By this excellent bowling, he helped his team Guyana Amazon Warriors to register win over red steel.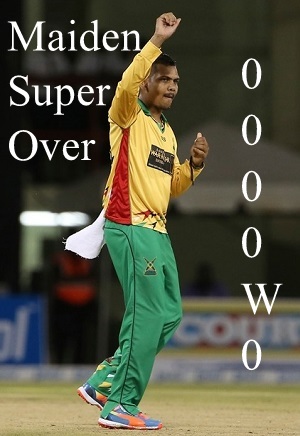 Sunil Narine's this super over look like this 0,0,0,0,W,0. First four bowls were dot and then a wicket. After this he bowled last bowl also a dot. It means five dot bowls and a wicket. Nicolas Pooran couldn't score single run in Narine's over. Pooran got out on fifth bowl of over while he didn't score on first four bowls. Ross Taylor also failed to make score on the last bowl.
Let's have a look at the over proceeding.
| | |
| --- | --- |
| BOWL | REACTION / SCORE |
| 1 | 0, Pooran misses the ball |
| 2 | 0, Pooran misses again the bowl |
| 3 | 0, One more dot; Pooran misses bowl again |
| 4 | 0, Once again play and miss |
| 5 | W, Pooran got out; Guptil took catch |
| 6 | 0, Ross Taylor failed to score |