Indian Premier League had only 6 teams for 2016 IPL after the suspension of Rajasthan Royals and Chennai Super Kings, but BCCI governing council announced 2 new franchises New Rising Pune and Intex Rajkot for next two years in the league. Both these teams will be having an opportunity to pick 5-5 top players of CSK and RR from players draft on 15 December 2015. The main auction for players will take place on 6 February next year in Bangalore.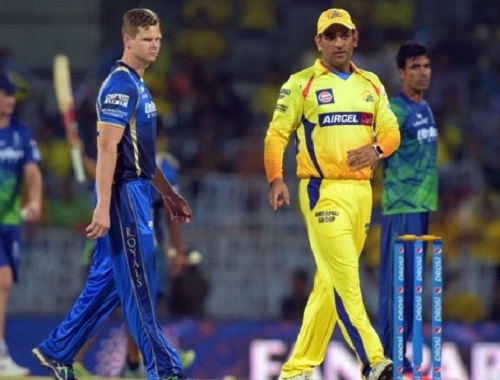 IPL Draft for Rajkot and Pune Teams
Mumbai Cricket Association's Bandra-Kurla Complex clubhouse is the venue for 15 December's IPL draft. All players from Rajasthan Royals and Chennai Super Kings squad of previous edition will be divided into two groups named 'Capped Players' and 'Uncapped Players'. Best 5 players from both CSK and RR will be placed in Capped Players list which makes the count to 10. Rest players will be in uncapped players category.
These top 10 players will be crucial for both the franchises. Pune team franchise owners will get the first opportunity to pick the first player in the beginning of draft. This is because they bid -16 Crore INR to buy Pune franchise which is less than Rajkot's -10 Crore INR.
Both franchises will have to pay 12.5 crore rupees to the first capped player they get in Vivo IPL draft. After it they will be paying 9.5 Crore, 7.5 crore, 5.5 crore and 4 crore INR to 2nd, 3rd, 4th and 5th capped players respectively. The uncapped players cost price will be 4 Crore INR for "New Rising Pune" and "Intex Rajkot" franchises.
Expected top CSK, RR Players for Draft
The biggest name for IPL draft could be Chennai Super Kings and India's ODI and T20I captain Mahender Singh Dhoni. As per expectations he will be the most likely player to be picked by franchises in the auction on Tuesday. CSK won 2010 and 2011 Indian Premier League events in the captaincy of MSD and also India became world t20 champions in 2007 under his captaincy. Hence he could be the most demanding player for Pune and Rajkot.
Suresh Raina, Ravindra Jadeja and Ravichandran Ashwin will the other cricketers from Chennai Super Kings in the IPL draft.
Australian captain and Rajasthan Royals skipper Steven Smith will also be the player to look for in the players bid. Ajinkya Rahane and Shane Watson from RR team are also the players to look forward in the draft. Let's have a look at the top 5 likely players from both teams for draft.
CSK: MS Dhoni, Suresh Raina, Ravindra Jadeja, Brendon McCullum, Ravichandran Ashwin.
RR: Steve Smith, Shane Watson, Ajinkya Rahane, Sanju Sampson, James Faulkner.
See more: Players list for IPL draft
What do you think about this IPL draft. Who will buy whom? Any guess?