Pakistan Super League governing council have announced the official franchises of five teams for new Twenty20 cricket League PSLT20. Islamabad, Karachi, Lahore, Peshawar and Quetta are the 5 franchise based teams in the competition whose first edition is scheduled to play from 4 February. There were 7 companies who shown interest to buy franchise in PSL and at the end 5 contenders got success.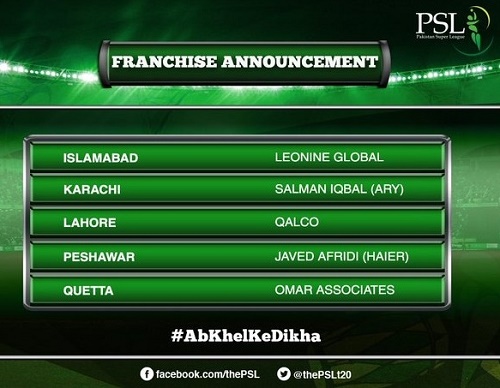 ARY Group bids the biggest bid for franchise and the group bought Karachi team for 2.6 million US dollars. Salman Iqbal who is the founder of group bid the biggest amount to buy Karachi. Qatar Oils Lubricants Company purchases Lahore franchise with a price tag of US$ 2.4 million.
Peshawar franchise was sold to Haier Mobile for US$1.6 million whereas Leonine Global Sports bought Islamabad team for US$ 1.5 million. Quetta was sold at the very low amount comparison to other franchises as OMER Associate bought the franchise for 1.1 million US dollar.
These 5 franchises have been asked to select coaches within 10 days from the list of coaches enrolled for PSL. As per reports a total of 10 coaches will selected which suggests that each team will be having two coaches during the entire competition.
Pakistan Super League governing council chairman Mr. Najam Sethi mentioned in a press conference with reporters in PCB headquarter said that the conditions were improving in the country and in near future other teams from across the world will play in Pakistan. He also indicated that second PSL T20 edition may be hosted in Pakistan itself.
He said, "The League will be played in Sharjah and Dubai from February 4 to 23. I hope the League will be played in Pakistan and the teams from across the world would play here."
Coaches and players draft will be held in the starting of January. The Pakistan Super League's first season will be played from 4 to 23 February in UAE. Dubai and Sharjah will host the 24 matches of league.