Hong Kong cricket board have unveiled the 15-member squads for forthcoming T20 Asia Cup and ICC World Twenty20 2016. Tanwin Afzal is appointed captain of the team to lead the team in respective tournaments. Mark Chapman will take responsibility of Afzal if due to any reason Afzal fails to play.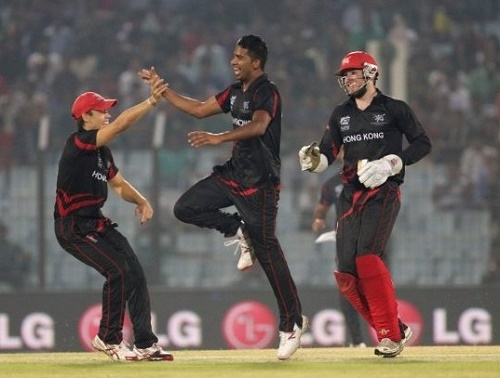 43-year old Ryan Campbell is the center of attraction in Hong Kong team's announced for t20 world cup as Ryan was used to play cricket for Australia national cricket team. Campbell moved to Hong Kong in 2012 and joined Kowloon Cricket Club as the head coach and player. He is also in the support staff of national team as batting consultant coach.
Campbell said, "I'm pretty nervous, to be honest. I'm there to mentor them as I have done for so long. It has been a while (since I played international cricket), but if you look at my numbers, I think I'm still one of the best batsmen in Hong Kong."
Hong Kong head coach Simon Cook mentioned that experience of former Australian will help the side in big competitions like world t20 and Asia Cup.
He said, "Ryan's form in Hong Kong has been good in Premier League and Sunday games for Kowloon Cricket Club. One of the things that we learned about our last WT20 tournament is that having that ability to think clearly in high pressure situations is critical and Ryan's experience will be an enormous help in that regard."
Asia Cup T20 squad
Tanwir Afzal (capt), Mark Chapman, Ninad Shah, Haseeb Amjad, Nadeem Ahmed, Babar Hayat, Waqas Barkat, Christopher Carter, Aizaz Khan, Nizakat Khan, Waqas Khan, Adil Mehmood, Kinchit Shah, Tanveer Ahmed, Anshuman Rath.
ICC World T20 2016 squad
Tanwir Afzal (capt), Mark Chapman, Nadeem Ahmed, Aizaz Khan, James Atkinson, Waqas Barkat, Christopher Carter, Haseeb Amjad, Nizakat Khan, Kinchit Shah, Waqas Khan, Tanwir Ahmed, Ryan Campbell, Anshuman Rath, Babar Hayat.
Hong Kong is placed in the Group B of twenty20 world cup 2016 in which they'll meet Scotland, Zimbabwe and Afghanistan to make their way for super-10 stage in the event. Team will face Zimbabwe in the opening game of championship on 8th March at Nagpur.