Indian Cricket Team have maintained their winning streak against Pakistan in ICC World Twenty20 and Cricket World Cup as they won 2016 wt20 championship Group-1 game. India beat Pakistan by 6 wickets. Virat Kohli smashed brilliant half-century to lead team towards victory. For his 55 runs inning in 37 balls he was awarded player of the match.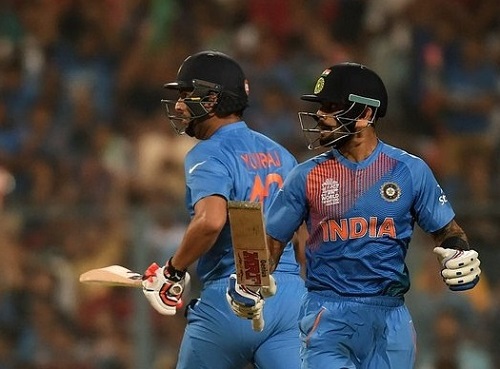 It was really a crucial and do or die match for Indian team and players took responsibility and won it to ear two points in world t20 points table to keep hopes alive for semi-finals. After the victory, Kohli said, "It was much needed win for us and getting two points on the board. The mistake I made in previous game against New Zealand which really hurt me."
Winning the toss, hosts India chose to bowl first in the reduced over match. Pakistan got steady start as openers added 38 runs for the first wicket till 8th over. After this Men in Blue started to take wickets and got 3 crucial wickets in next 4 overs. Umar Akmal and Shoaib Malik started to exploit Indian bowling and from their valuable innings, Pakistan managed to score 118 runs challenging total in 18 overs game.
In a tensed match and in the chase of 119 runs target, home team got bad start and lost on 3 wickets in just 5th over while 23 runs on the board. After this Virat Kohli and Yuvraj Singh built 61 runs partnership that led Indian team towards the win and in the end MS Dhoni and Kohli finished off the things for Men in Blue.
Match Summary (18-over per side)
Toss: India won toss and chose to field
Pakistan Innings: 118 runs in 18 overs for 5 wickets loss (Malik-26, Shehzad-25)
India Innings: 119 runs in 15.5 overs for 4 wickets loss (Kohli-55*, Yuvraj-24)
Result: India won by 6 wickets
Man of The Match: Virat Kohli (India)