Pakistan Super League governing council have announced that the players draft for inaugural PSLT20 edition will take place on 21-22 December. It is also declared that there will be a total 308 top cricketers from various countries will feature in the players draft. These drafted players will go under the hammer in auction and 5 teams franchise will be eager to buy their interested cricketers.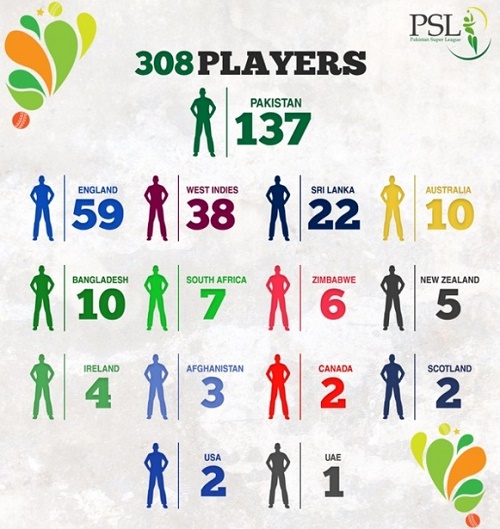 Out of these 308 players, there will be 137 players from Pakistan will go under hammer. The most number of foreign cricketers in draft are from England as 59 English players have enrolled themselves for draft. Some more international players from West Indies (38), Sri Lanka (22), Australia (10), Bangladesh (10), South Africa (7), New Zealand (5) and a total of 14 players from ICC's associated member countries have entered in PSL players draft.
All these players are categorized in five categories Platinum, Diamond, Gold, Silver and emerging. Each franchise must pick three players from top three categories Platinum, Diamond and Gold. 5 players should be taken from Silver and two will come from emerging. This proves that each team will be having 16 players in the squad.
PCB said, "At the player draft event, the five franchise owners will gather to select their playing squads. By opting for a draft system in place of a player auction, PSL will ensure a level-playing field as each team will have to choose a certain number of players from each category."
Platinum category in PSL 2016 draft contains some of the top international players like Shahid Afridi, Chris Gayle, Shane Watson, Kevin Pietersen, Mahela Jayawardene and Shakib Al Hasan. There are a total of 30 cricketers in the Pakistan Super League draft.
On the other hand there are 41 players drafted in Diamond category. Players like Yasir Shah, Kamran Akmal, Ajantha Mendis, Richard Levi, Shaun Tait, James Franklin, Lendl Simmons and more are listed in PSL Players draft 2016.
Islamabad, Karachi, Peshawar, Lahore and Quetta are the five franchises in HBL PSLT20. The first edition of Pakistan Super League is scheduled to take place between 4 and 23 February 2016 in UAE.