The schedule of 9th edition of Indian Premier League has been declared and a total of 60 matches will be played throughout the competition. There are several broadcasting networks and television channels which will bring live coverage of Vivo IPL 2016. Tournament will be played from 9 April to 29 May across 10 Indian cities.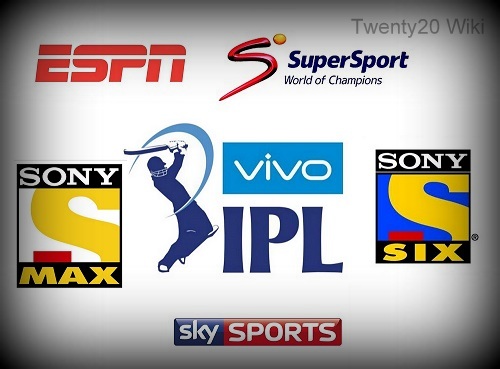 Sony Entertainment Television Network has got the global rights to broadcast Indian Premier League. This is India's domestic twenty20 cricket league hence India based viewers will be able to watch the live telecast of all 60 IPL 2016 matches on Sony Six, Set Max and Sony ESPN.
The complete list of broadcasting networks for IPL-9 is given below.
2016 IPL Broadcasting Rights
| | |
| --- | --- |
| Country/Region | Broadcaster |
| India | Sony Max, Sony Six, Sony ESPN |
| Africa | SuperSport |
| Pakistan | Geo Super |
| Bangladesh | Maasranga |
| Caribbean | Sportsmax |
| Bhutan | Set Max, Sony Six |
| Canada | Sportsnet |
| New Zealand | Sky Sport |
| Malaysia | Astro |
| Sri Lanka | Carlton Sports Network |
| Hong Kong | PCCW |
| Middle East and North Africa | OSN |
| United States | ESPN |
| Singapore | StarHub, Singtel |
| Australia | CricketGateway.com |
| United Kingdom | Sky Sports |
| Nepal | Sony Six, Sony Max |
| Brunei | Astro |
IPL 2016 Matches Schedule
Date
Match
Fixture
Venue
9 April 2016
Match 1
MI vs RPSG
Mumbai
10 April 2016
Match 2
KKR vs DD
Kolkata
11 April 2016
Match 3
KXIP vs GL
Mohali
12 April 2016
Match 4
RCB vs SRH
Bengaluru
13 April 2016
Match 5
KKR vs MI
Kolkata
14 April 2016
Match 6
GL vs RPSG
Rajkot
15 April 2016
Match 7
DD vs KXIP
Delhi
16 April 2016
Match 8
SRH vs KKR
Hyderabad
Match 9
MI vs GL
Mumbai
17 April 2016
Match 10
KXIP vs RPSG
Mohali
Match 11
RCB vs DD
Bengaluru
18 April 2016
Match 12
SRH vs MI
Hyderabad
19 April 2016
Match 13
KXIP vs KKR
Mohali
20 April 2016
Match 14
MI vs RCB
Mumbai
21 April 2016
Match 15
GL vs SRH
Rajkot
22 April 2016
Match 16
RPSG vs RCB
Pune
23 April 2016
Match 17
DD vs MI
Delhi
Match 18
SRH vs KXIP
Hyderabad
24 April 2016
Match 19
GL vs RCB
Rajkot
Match 20
RPSG vs KKR
Pune
25 April 2016
Match 21
KXIP vs MI
Mohali
26 April 2016
Match 22
SRH vs RPSG
Hyderabad
27 April 2016
Match 23
DD vs GL
Delhi
28 April 2016
Match 24
MI vs KKR
Mumbai
29 April 2016
Match 25
RPSG vs GL
Pune
30 April 2016
Match 26
DD vs KKR
Delhi
Match 27
SRH vs RCB
Hyderabad
1 May 2016
Match 28
GL vs KXIP
Rajkot
Match 29
RPSG vs MI
Pune
2 May 2016
Match 30
RCB vs KKR
Bengaluru
3 May 2016
Match 31
GL vs DD
Rajkot
4 May 2016
Match 32
KKR vs KXIP
Kolkata
5 May 2016
Match 33
DD vs RPSG
Delhi
6 May 2016
Match 34
SRH vs GL
Hyderabad
7 May 2016
Match 35
RCB vs RPSG
Bengaluru
Match 36
KXIP vs DD
Nagpur
8 May 2016
Match 37
MI vs SRH
Mumbai
Match 38
KKR vs GL
Kolkata
9 May 2016
Match 39
KXIP vs RCB
Nagpur
10 May 2016
Match 40
RPSG vs SRH
Pune
11 May 2016
Match 41
RCB vs MI
Bengaluru
12 May 2016
Match 42
SRH vs DD
Hyderabad
13 May 2016
Match 43
MI vs KXIP
Mumbai
14 May 2016
Match 44
RCB vs GL
Bengaluru
Match 45
KKR vs RPSG
Kolkata
15 May 2016
Match 46
MI vs DD
Mumbai
Match 47
KXIP vs SRH
Nagpur
16 May 2016
Match 48
KKR vs RCB
Kolkata
17 May 2016
Match 49
RPSG vs DD
Pune
18 May 2016
Match 50
RCB vs KXIP
Bengaluru
19 May 2016
Match 51
GL vs KKR
TBC
20 May 2016
Match 52
DD vs SRH
Raipur
21 May 2016
Match 53
RPSG vs KXIP
Pune
Match 54
GL vs MI
TBC
22 May 2016
Match 55
KKR vs SRH
Kolkata
Match 56
DD vs RCB
Raipur
24 May 2016
Match 57
Qualifier 1: GL vs RCB
Bengaluru
25 May 2016
Match 58
Eliminator: SRH vs KKR
Delhi
27 May 2016
Match 59
Qualifier 2: GL vs SRH
Delhi
29 May 2016
Match 60
Final: RCB vs SRH
Bengaluru