2007 ICC World Twenty20 winning team member Yusuf Pathan is looking to make comeback in the national team for upcoming world t20 championship in India next year. The all-rounder is hoping to get himself placed in Indian squad for 20-20 cricket world cup in 2016 and wants to win it for country.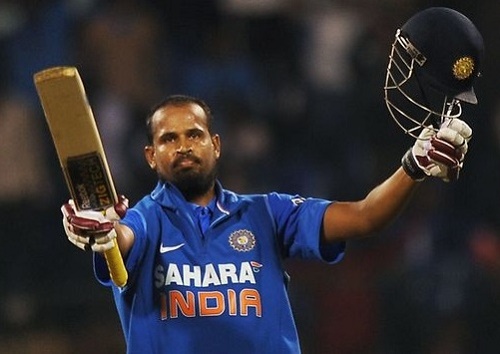 Yusuf told PTI, "I have had a very good Ranji season this year. If you talk about T20 then I have had a very good IPL season for KKR. I am bowling well, letting down 9-10 overs in every match (Vijay Hazare), so things are moving in the right direction. Wickets are coming my way and I am also getting runs when I am batting."
"So obviously I am eyeing a place in the upcoming tournament and that's the T20 World Cup. And I believe that if I keep performing then I will get an opportunity. I have a lot of cricket left in me and a long road ahead of me. I am just focussed on doing well. Performing to the best of my ability and leave the rest to the almighty. I believe if you keep performing, selectors certainly take notice," he added.
Yusuf Pathan has played 57 ODIs and 22 T20Is for India and he was a part of inaugural WT20 championship winning Indian team under MS Dhoni's captaincy. He plays Indian Premier League for Kolkata Knight Riders and won some great matches for the club with bat and bowl.
"Look, I have played ODIs and T20s, so obviously I think more about ODIs and T20s. I have not played Test matches, so can't say much about them. But it's not that I don't wish to play Tests. I have done well in the four-day Ranji matches and will certainly look to play these, but yes, for the moment I am enjoying my limited-overs cricket."
"My aim has always been big and those will remain so till the time I play cricket. I will work harder to achieve my goals. If you do well for your team consistently, the team will always like to take your services and give you an opportunity. So my goal is always to play good cricket and work towards it," Pathan added.
33-year old praises Indian Test Cricket Team captain Virat Kohli for the performances he has given as the skipper. Yusuf believes that Kohli's aggression and attitude is positive on the field and it helps the side.
"Kohli has done well in the few matches that he has captained so far. He is a good leader and has shown positivity in his approach. He is aggressive on the field, but that is positive aggression I believe. He also helps the team and the teammates and that is a good sign for Indian cricket."
"I have been working on my bowling for quite sometime now and the results are certainly showing. Not only on my bowling, I worked tirelessly on every aspect of my game, whether it is batting or fielding."
India is placed with Australia, Pakistan and New Zealand in the 2nd Group of 2016 world 20-20 championship.