Delhi Daredevils have appointed India's legendary fast bowler Zaheer Khan as the skipper for upcoming Vivo Indian Premier League 2016 beginning from 9th April. It will be second consecutive season for left-arm bowler in the Delhi's squad. He has replaced JP Duminy as the captain for ninth IPL season.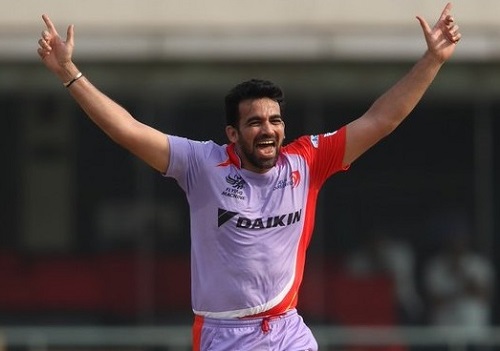 After confirming the news, Zaheer Khan said, "It is a huge honour to captain Delhi Daredevils. To get this responsibility is a way for me to get back to the game. I firmly believe that with the players currently involved we have the makings of a very good side, a young side that can surprise people. The potential of this group of players is immense and it is now up to us as players to turn that potential into consistent performances."
Delhi Daredevils roped in India's batting great and former captain Rahul Dravid as the team mentor for this year's IPL. Dravid played lot of cricket with Zaheer Khan for India and he is happy for Zak's appointment as the leader of side.
Rahul Dravid said, "Zaheer has been a leader for a very long time. Anyone who has followed Indian cricket will know the impact Zak has had. He has always proven himself to be one of the leaders. Zak has a big personality, but it is the steel, focus and drive behind the outward confidence which I think he will bring to the captaincy and that I am sure will inspire the rest of the team. He has the respect of the dressing room and the franchise is proud to have him as our captain. I would like to congratulate him on the appointment and wish him, and the rest of the squad all the very best."
Dravid also appreciated South Africa all-rounder JP Duminy for his captaincy in the previous season. He also mentioned that Duminy would be a crucial part of Delhi Daredevils team think tank.
""JP did a fantastic job last season. He will continue to be part of the leadership group. I am looking forward to working with Zak, JP, Paddy (Head Coach) and the rest of the support staff as we build towards this upcoming season," Dravid added.
Delhi Daredevils are scheduled to play their first Vivo IPL 2016 match against Kolkata Knight Riders on 10 April at Eden Gardens.