The 7th edition of Big Bash League is all set to go live from 19 December 2017 and cricket fans are exciting to enjoy one more BBL season live on television sets. In this modern era, t20 cricket viewers are more tend to watch live matches telecast online through high-end mobile devices, desktops and laptops.
Australia based cricket fans and viewers will be able to catch live broadcast of 2017-18 Big Bash League on cricket.com.au with latest match updates and live scores. Network TEN will be there to telecast live BBL matches on televisions in Australia.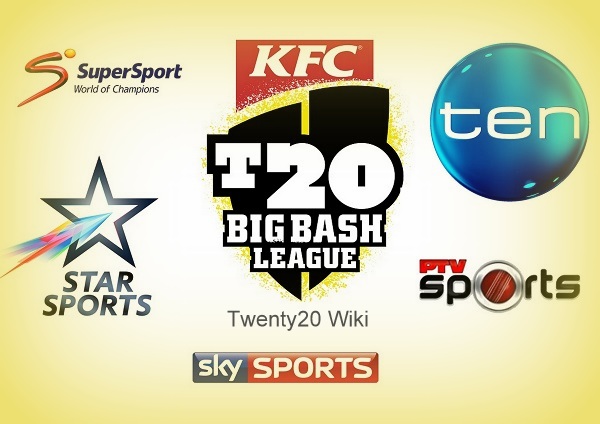 Star Sports will be telecasting live big bash league twenty20 cricket games in India. The brodacaster will also live matches online on starsports.com. Lets have a look at the list of broadcasters for big bash in 2017-18 edition with respective countries and region.
Australia – Network Ten, www.cricket.com.au
India, Sri Lanka, Bangladesh – Star Sports, www.hotstar.com
Canada, United States – NBCSN, NBCSports.com
South Africa – SuperSport, www.supersport.com
United Kingdom – Sky Sports
The complete schedule of big bash league 2017-18 matches which will be streamed live.
BBL|07 Matches to be streamed live online
DATE
TIME
MATCH
FIXTURE
VENUE
19 December
19:40
Match 1
Sydney Thunder vs Sydney Sixers
Spotless Stadium
20 December
18:40
Match 2
Brisbane Heat vs Melbourne Stars
Gabba
21 December
19:40
Match 3
Hobart Hurricanes vs Melbourne Renegades
Blundstone Arena
22 December
19:10
Match 4
Adelaide Strikes vs Sydney Thunder
Adelaide Oval
23 December
16:10
Match 5
Sydney Sixers vs Perth Scorchers
SCG
19:20
Match 6
Melbourne Renegades vs Brisbane Heat
Etihad Stadium
26 December
16:10
Match 7
Perth Scorchers vs Melbourne Stars
WACA
27 December
18:10
Match 8
Brisbane Heat vs Sydney Thunder
Gabba
28 December
19:10
Match 9
Sydney Sixers vs Adelaide Strikers
SCG
29 December
19:10
Match 10
Melbourne Renegades vs Perth Scorchers
Etihad Stadium
30 December
19:10
Match 11
Hobart Hurricanes vs Sydney Thunder
University of Tasmania Stadium
31 December
18:40
Match 12
Adelaide Strikers vs Brisbane Heat
Adelaide Oval
1 January
18:10
Match 13
Sydney Thunder vs Hobart Hurricanes
Spotless Stadium
18:20
Match 14
Perth Scorchers vs Sydney Sixers
WACA
2 January
19:10
Match 15
Melbourne Stars vs Brisbane Heat
MCG
3 January
19:10
Match 16
Melbourne Renegades vs Sydney Sixers
TBC
4 January
19:10
Match 17
Hobart Hurricanes vs Adelaide Strikers
Blundstone Arena
5 January
18:10
Match 18
Brisbane Heat vs Perth Scorchers
Gabba
6 January
19:10
Match 19
Melbourne Stars vs Melbourne Renegades
MCG
7 January
19:10
Match 20
Sydney Thunder vs Adelaide Strikers
Spotless Stadium
8 January
18:10
Match 21
Hobart Hurricanes vs Sydney Sixers
Blundstone Arena
18:20
Match 22
Perth Scorchers vs Melbourne Renegades
WACA
9 January
19:10
Match 23
Adelaide Strikers vs Melbourne Stars
Adelaide Oval
10 January
18:40
Match 24
Brisbane Heat vs Hobart Hurricanes
Gabba
11 January
19:40
Match 25
Sydney Thunder vs Perth Scorchers
Spotless Stadium
12 January
19:40
Match 26
Melbourne Renegades vs Melbourne Stars
Etihad Stadium
13 January
12:00
Match 27
Adelaide Strikers vs Perth Scorchers
TBC
19:20
Match 28
Sydney Sixers vs Sydney Thunder
SCG
15 January
19:40
Match 29
Hobart Hurricanes vs Brisbane Heat
Blundstone Arena
16 January
19:40
Match 30
Melbourne Stars vs Sydney Sixers
MCG
17 January
19:10
Match 31
Adelaide Strikers vs Hobart Hurricanes
Adelaide Oval
18 January
19:40
Match 32
Sydney Sixers vs Brisbane Heat
SCG
20 January
18:10
Match 33
Melbourne Stars vs Sydney Thunder
MCG
18:20
Match 34
Perth Scorchers vs Hobart Hurricanes
WACA
22 January
19:40
Match 35
Melbourne Renegades vs Adelaide Strikers
Etihad Stadium
23 January
19:40
Match 36
Sydney Sixers vs Melbourne Stars
SCG
24 January
19:40
Match 37
Sydney Thunder vs Melbourne Renegades
TBC
25 January
16:40
Match 38
Perth Scorchers vs Adelaide Strikers
WACA
27 January
16:10
Match 39
Melbourne Stars vs Hobart Hurricanes
MCG
18:20
Match 40
Brisbane Heat vs Melbourne Renegades
Gabba
1 February
TBC
Match 41
1st Semi-Final
TBC
2 February
TBC
Match 42
2nd Semi-Final
TBC
4 February
TBC
Match 43
Final
TBC