List of Centuries in Big Bash League
The first ever century of KFC Big Bash League was scored in the inaugural edition of championship in 2011. Australian left-handed batsman David Warner smashed hundred for Sydney Thunder against Melbourne Stars.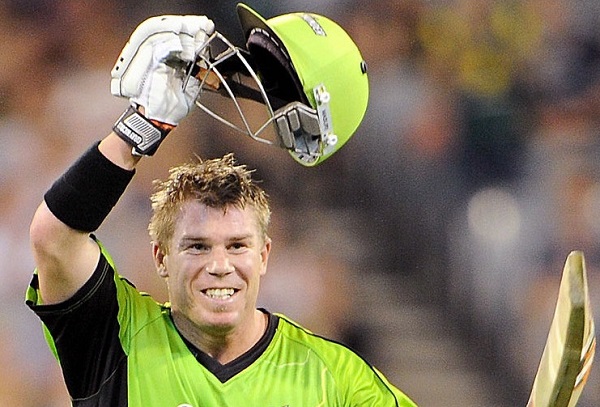 Luke Wright, Usman Khawaja and Craig Simmons are the three players who have smashed BBL ton twice. Let's have a look at the list of hundreds scored in Big Bash League over the years.
BBL Hundreds List
| | | | | | | |
| --- | --- | --- | --- | --- | --- | --- |
| Date | Player | Score | Balls | Strike Rate | Versus | Venue |
| 17 Dec 2011 | David Warner (Thunder) | 102* | 51 | 200.00 | Stars | Melbourne |
| 23 Dec 2011 | Chris Gayle (Thunder) | 100* | 54 | 185.18 | Strikers | Sydney |
| 9 Jan 2012 | Luke Wright (Stars) | 117 | 60 | 195.00 | Hurricanes | Hobart |
| 7 Dec 2012 | Aaron Finch (Renegades) | 111* | 65 | 170.76 | Stars | Melbourne |
| 15 Jan 2013 | Luke Pomersbach (Heat) | 112* | 70 | 160.00 | Renegades | Melbourne |
| 16 Jan 2014 | Craig Simmons (Scorchers) | 102 | 41 | 248.78 | Strikers | Perth |
| 5 Feb 2014 | Craig Simmons (Scorchers) | 112 | 58 | 193.10 | Sixers | Sydney |
| 26 Dec 2014 | Michael Klinger (Scorchers) | 105* | 60 | 175.00 | Renegades | Perth |
| 21 Jan 2015 | Peter Handscomb (Stars) | 103* | 64 | 160.93 | Scorchers | Melbourne |
| 20 Dec 2015 | Usman Khawaja (Thunder) | 109* | 70 | 155.71 | Stars | Melbourne |
| 29 Dec 2015 | Chris Lynn (Heat) | 101 | 51 | 198.03 | Hurricanes | Brisbane |
| 31 Dec 2015 | Travis Head (Strikers) | 101* | 53 | 190.56 | Sixers | Adelaide |
| 2 Jan 2016 | Luke Wright (Stars) | 109* | 63 | 173.00 | Renegades | Melbourne |
| 21 Jan 2016 | Usman Khawaja (Thunder) | 104* | 59 | 176.27 | Strikers | Adelaide |
| 12 Jan 2017 | Ben McDermott (Hurricanes) | 114 | 52 | 219.20 | Renegades | Melbourne |