Caribbean Premier League 2016 Schedule, Fixtures
The fourth edition of Caribbean Premier League is scheduled to play from 30 June to 2 August 2016 across six venues on the Caribbean soil. This will be first occasion when CPLT20 matches will be played in United States of America as tournament organizers announced 6 fixtures which will be played at Fort Lauderdale in Florida, USA.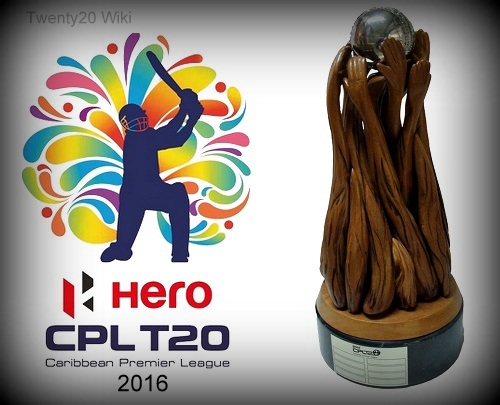 Just like previous editions, six teams will be  participating in Hero Caribbean Premier League. Trinbago Knight Riders is the new team in competition, eventually they were previously known as Trinidad & Tobago Red Steel. Jamaica Tallawahs. Barbados Tridents. Guyana Amazon Warriors, St. Lucia Zouks and St. Kitts & Nevis Patriots are the rest five teams to play in CPLT20 2016 league.
| | | | |
| --- | --- | --- | --- |
| Date | Time | Fixture | Venue |
| 29 June 2016 | 21:00 | Trinbago Knight Riders vs St. Lucia Zouks | Port of Spain |
| 30 June 2016 | 20:00 | St. Kitts Nevis Patriots vs Guyana Amazon Warriors | Basseterre, St Kitts |
| 1 July 2016 | 21:00 | Trinbago Knight Riders vs Barbados Tridents | Port of Spain |
| 2 July 2016 | 12:00 | St. Kitts Nevis Patriots vs Jamaica Tallawahs | Basseterre, St Kitts |
| 2 July 2016 | 21:00 | Trinbago Knight Riders vs Guyana Amazon Warriors | Port of Spain |
| 3 July 2016 | 16:00 | St. Kitts Nevis Patriots vs St. Lucia Zouks | Basseterre, St Kitts |
| 4 July 2016 | 19:00 | Trinbago Knight Riders vs Jamaica Tallawahs | Port of Spain |
| 5 July 2016 | 19:00 | St. Kitts Nevis Patriots vs Barbados Tridents | Basseterre, St Kitts |
| 7 July 2016 | 19:00 | Guyana Amazon Warriors vs Jamaica Tallawahs | Providence, Guyana |
| 9 July 2016 | 12:00 | Guyana Amazon Warriors vs St. Kitts Nevis Patriots | Providence, Guyana |
| 10 July 2016 | 19:00 | Guyana Amazon Warriors vs Trinbago Knight Riders | Providence, Guyana |
| 11 July 2016 | 20:00 | Barbados Tridents vs Jamaica Tallawahs | Barbados |
| 12 July 2016 | 19:00 | Guyana Amazon Warriors vs St. Lucia Zouks | Providence, Guyana |
| 13 July 2016 | 20:00 | Barbados Tridents vs St. Kitts Nevis Patriots | Barbados |
| 15 July 2016 | 20:00 | Jamaica Tallawahs vs Guyana Amazon Warriors | Jamaica |
| 16 July 2016 | 12:00 | Barbados Tridents vs Trinbago Knight Riders | Barbados |
| 16 July 2016 | 18:00 | Jamaica Tallawahs vs St. Kitts Nevis Patriots | Jamaica |
| 17 July 2016 | 19:00 | Barbados Tridents vs St. Lucia Zouks | Barbados |
| 18 July 2016 | 20:00 | Jamaica Tallawahs vs Trinbago Knight Riders | Jamaica |
| 20 July 2016 | 20:00 | Jamaica Tallawahs vs Barbados Tridents | Jamaica |
| 21 July 2016 | 18:00 | St. Lucia Zouks vs St. Kitts Nevis Patriots | St Lucia |
| 23 July 2016 | 12:00 | St. Lucia Zouks vs Barbados Tridents | St Lucia |
| 24 July 2016 | 17:00 | St. Lucia Zouks vs Guyana Amazon Warriors | St Lucia |
| 26 July 2016 | 18:00 | St. Lucia Zouks vs Trinbago Knight Riders | St Lucia |
| 28 July 2016 | 19:00 | Guyana Amazon Warriors vs Barbados Tridents | Florida |
| 29 July 2016 | 19:00 | St. Kitts Nevis Patriots vs Trinbago Knight Riders | Florida |
| 30 July 2016 | 12:00 | St. Lucia Zouks vs Jamaica Tallawahs | Florida |
| 30 July 2016 | 16:00 | Barbados Tridents vs Guyana Amazon Warriors | Florida |
| 31 July 2016 | 12:00 | Trinbago Knight Riders vs St. Kitts Nevis Patriots | Florida |
| 31 July 2016 | 16:00 | Jamaica Tallawahs vs St. Lucia Zouks | Florida |
| 3 August 2016 | 19:00 | Playoff 1: Guyana Amazon Warriors vs Jamaica Tallawahs | St. Kitts |
| 4 August 2016 | 19:00 | Playoff 2: St Lucia Zouks vs Trinbago Knight Riders | St. Kitts |
| 5 August 2016 | 20:00 | Playoff-3: Jamaica Tallawahs vs Trinbago Knight Riders | St. Kitts |
| 7 August 2016 | 19:00 | Final: Guyana Amazon Warriors vs Jamaica Tallawahs | St. Kitts |