England's Test Cricket Team captain Alistair Cook wants fast bowler Stuart Broad to be a part of English side in ICC World Twenty20 in India next year. Broad has not played single T20 international game since 2014 edition of wt20 in which England failed to qualify for knockout stage under his captaincy.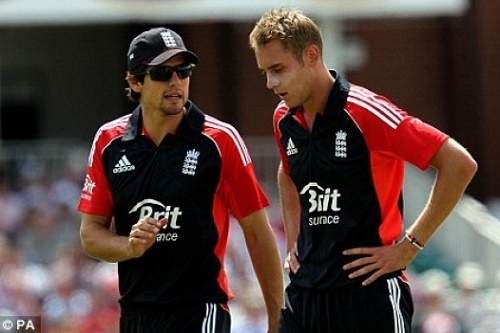 Cook said, "As a Test captain you want your best players playing just that format in a very selfish way. But that's not the right thing. Broady has been fantastic for English cricket for a very long time."
England cricket team will be having busy schedule in 2016. England to tour South Africa just in the beginning of January and play two T20Is against them. After conclusion of world cup, England to host Sri Lanka and Pakistan. Hence Test Captain Cook wants his leading pace bowler to be fresh for such series' but at the time he said that it would be great if he can contribute to the side in a major event like t20.
"Physically he has looked in fantastic nick recently and he hasn't played much one-day cricket. He would go with my blessing. If you want to go to win global tournaments and you need your best players," he added.
England won 2010 ICC World 2020 championship and would be looking to win it again in India. Stuart Broad was a part of wt20 winning side. Hence Alistair Cook has said that it would be a tough call for selectors and captain Eoin Morgan to pic 15-member England squad.
"That's an interesting selection for the selectors, Andrew Strauss and Eoin Morgan. That will be a decision made down the line and you can't look too far ahead."
The sixth edition of T20 cricket world cup will begin on 11th March and will conclude on 3 April 2016 at Kolkata. 16 teams will be participating in 2016 wt20 championship and England will be looking for the second ICC World Twenty20 trophy.