Retired from test cricket Australian all-rounder Shane Watson has said that he is ready for the limited overs cricket especially for upcoming Twenty20 cricket. He said that he would be eager to be a part of Australia's 2016 world t20 squad. Watson played previous editions of ICC World T20 and performed well for the side but Australia failed to clinch the single title.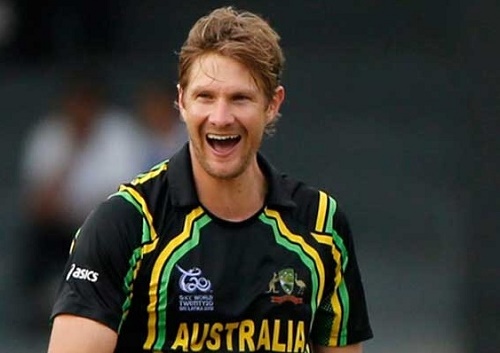 In 2012 edition of tournament Shane Watson was awarded player of the series for his all-rounding performance in which he took 11 wickets and scored 249 runs as well. He announced retirement from test cricket before few months ago. Watson will be seen playing KFC Big Bash League for Sydney Thunder and will play the tournament to make himself match fit for wt20 championship in India.
Watson said, "That's a priority, there's no doubt I'd love to be a part of that. It's in India as well which I've played a lot of T20 cricket. That's a big goal of mine but I have to be at my best. The Australian squad is very strong in all formats. I know when I'm at my best I can contribute a lot. The most important thing is me being at my best."
Check more: ICC World T20 2016 fixtures
34-year old cricketer doesn't think that age will be a big factor for him as he has seen lots of Aussie stars like Mike Hussey and Ricky Ponting who played cricket effectively at the age of 36-37. He believes that lots of cricket still left inside him and he'll be keen to play.
"It actually excites me. I feel 34 is not that old. I've played with guys at 36, 37, Ricky Ponting, Michael Hussey, who still played incredibly to the back end of their careers, so I still feel like I've got a lot of cricket left. It's just those breaks and having more down time between series is going to be important for me mentally, physically to continue to do what I love, hopefully to a really high level as well," he added.
If Shane Watson gets place in Australian world t20 squad, he'll be most senior in the side as no other player has got record of matches that he has. In shorter format of cricket he wants to lead the sides whether it is Sydney Thunder or Australia with his experience.
Shane Watson said, "I'm excited about being a the most senior player around the group, whether it be the Thunder, Australia in the shorter formats. It's going to be very different not playing with the mates I've grown up playing with but it's exciting."
The sixth edition of T20 cricket world cup is scheduled to be played in India from 11 March to 3 April in which 16 nations will be participating. As per reports Australia is placed in the same group in which India and Pakistan are placed. Kangaroos have never won world t20 championship and will eyeing to clinch it in Kolkata on 3rd April, 2016.