The league of Xtraordinary cricketers is coming in January-February in UAE. Around 100 ex-cricketers from allover the world will participate in the first season of Masters Champions League (MCL) that schedules to begin from 28 January, 2016. It's a twenty20 tournament and will give you an opportunity to watch 90s legends together on the field once again.
MCL2020 provides an excellent opportunity to you to watch live Masters Champions League 2016 matches from the ground. The tickets sale for first MCL season has begun and you can purchase the tickets to catch the live action from Sharjah and Dubai cricket stadiums. Total 18 matches will be played throughout the competition and tickets can be bought easily online.
How to Buy MCL Tickets
Masters Champions League has partnered with TicketMaster to provide you the easy way to get tickets for desired matches. The first match of league is scheduled to play on 28 January between Libra Legends and Gemini Arabians at Dubai International Stadium. Opening ceremony will kick off at 18:00 and match starts at 19:30 GST. Tickets can be purchased for any match if they are available.
Tickets Price
The tickets are divided into 5 categories according the to price. Platinum, General Admission, International, Premium East and Premium West are the categories from which one can buy tickets. The least amount for the price of MCL ticket is 25.00 AED (United Arab Emirates Dirham). A maximum number of 8 tickets you can purchase at a time. Let's have a look at the tickets pricing for Masters Champions League inaugural season in Dubai and Sharjah.
Dubai International Stadium Tickets Price and Seating Plan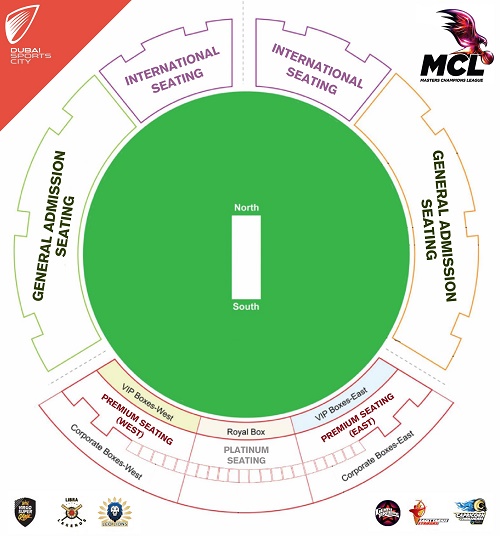 Category
Ticket Price (Per Single Ticket)
League Matches
Grand Final
Platinum
500.00 AED
1000.00 AED
Premium East
250.00 AED
350.00 AED
Premium West
250.00 AED
350.00 AED
International
75.00 AED
100.00 AED
General Admission
25.00 AED
25.00 AED
Note: The prices exclude the convenience fee.
Sharjah Cricket Stadium Tickets Price and Seating Plan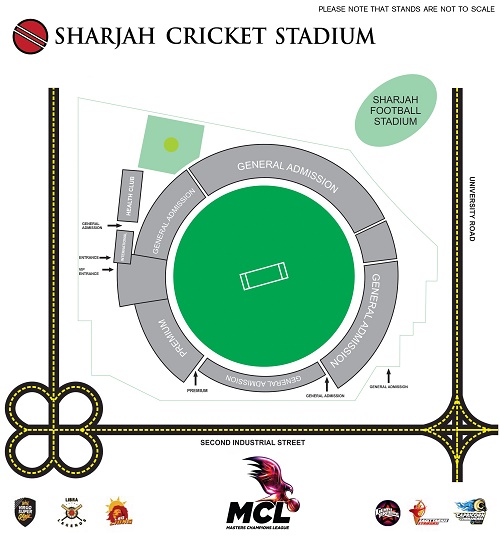 | | |
| --- | --- |
| Category | Ticket Price (Per Single Ticket) |
| Premium | 100.00 AED |
| International | 50.00 AED |
| General Admission | 25.00 AED |
Note: The prices exclude the convenience fee.
Things to remember check buying tickets
Tickets are subjected to availability. Tickets price will be increased once the initial release allocation is exhausted.
You must have original ID proofs. MCL will allow persons only having Passport, UAE Driver's License, UAE & GCC ID card as identification proof. No other identity card will be accepted. (Note: Photocopy will not be accepted.)
No refund or cancellation on the tickets once you have completed the order.
You can not take outside food or beverages with you in the stadium.
Only above 18 years age are allowed to purchase ticket. Don't worry if you are not 18+, you can ask your parents to buy MCL tickets. Two year old or above children must have match ticket.
To buy Masters Champions League tickets online you can click here.