Gemini Arabians is one of the franchises in Masters Champions League twenty20 league which is owned by Khaitan Holdings. Two cricketing greats of world cricket Virender Sehwag and Kumar Sangakkara who are also 'Icon' at MCL2020 were named in Gemini Arabians club in the players auction.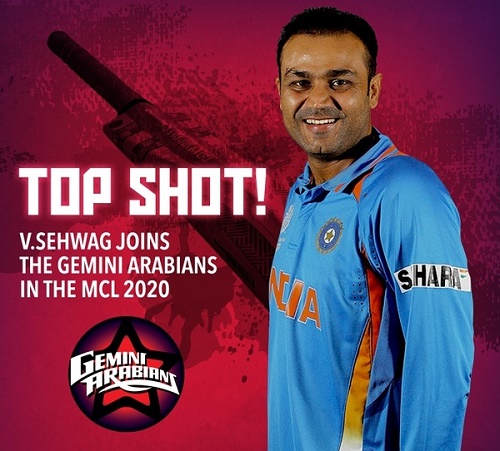 Kumar Sangakkara used to play for Sri Lanka whereas Virender Sehwag represented India over the years. Both Sangakkara and Sehwag were taken by team owners at the combined price of 100,000$. This is the reserved price for two legend players in every club.
Each #MCL2020 team have already purchased two legends at a combined cost of $100,000. #MCLAuction

— MCL 2020 (@MCL2020UAE) December 7, 2015
One more cricket legend and great spinner Muttiah Muralitharan is also purchased by Arabians. Former New Zealand pace bowler Kyle Mills also attained by Arabians in the auction. Pakistan's spin great Saqlain Mushtaq is also purchased by Gemini Arabians in the auction.
Gemini Arabians Players with price
| | |
| --- | --- |
| Player | Price |
| Richard Levi | 152,000$ |
| Brad Hodge | 120,000$ |
| Muttiah Muralitharan | 120,000$ |
| Justin Kemp | 68,000$ |
| Jacques Rudolph | 58,000$ |
| Graham Onions | 56,000$ |
| Virender Sehwag | 50,000$ |
| Kumar Sangakkara | 50,000$ |
| Saqlain Mushtaq | 42,000$ |
| Kyle Mills | 42,000$ |
| Rana Naved Ul-Hasan | 38,000$ |
| Shivnarine Chanderpaul | 30,000$ |
| Paul Harris | 20,000$ |
| Saqib Ali | 10,000$ |
| Ashish Bagai | 10,000$ |