The Masters Champions League players auction is set to be held today at The Grand Midwest Hotel in Dubai. More than 250 former cricketers have enrolled for the first season of tournament and will go under hammer today. The first edition of MCL T20 is scheduled to play between 28 January and 14 February.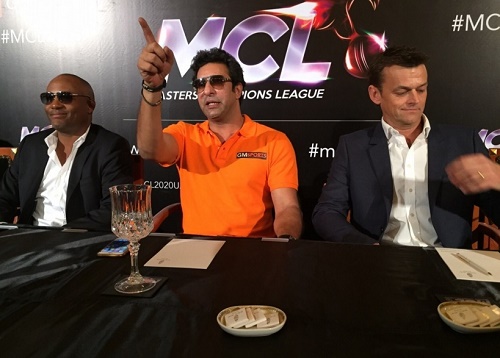 There are six franchise based teams in the ex-cricketers twenty20 cricket league. The first franchise of Masters Champions League i.e. Libra Legends was announced before few days back in Mumbai. Rest 5 franchises will be announced during the auction event. The live feeds and updates of auction will be provided through the official twitter handle of MCL.
MCL auction will take place just like Indian Premier League auction holds. Out of these 250 Xtra ordinary cricketers 90 players will be selected including the captains which will be surely out of from the 11 marquee players. Initially 12 marquee players were named for MCL2020 but Pakistan's Shoaib Akhtar pulled out from the event.
Sourav Ganguly, Virender Sehwag, Graeme Smith, Michael Vaughan, Azhar Mahmood, Scott Styris, Heath Streak, Kumar Sangakkara, Mahela Jayawardene, Abdul Razzaq and Graeme Swann are the marquee players in the league.
The Chairman of Masters Champions League Mr. Zafar Shah said in in interview with gulfnews.com that the auction would be biggest ever in the region and it would expose some great surprises to the cricket fans. He confirmed that Brian Lara, Kumar Sangakkara, Michael Warne, Daniel Vettori, Graeme Swann and Azhar Mahmood would be present during the auction.
He said, "It will be biggest ever auction of the region and it will be a full day of surprises. The marquee players of the tournament will be present. We are a private tournament but we will reveal during the auction that whatever we promised we will deliver."
"The names of the teams are being kept a secret and will only be announced on the auction day. The broadcasters of the event will also be announced only during the auction. We will be flying in some of the players, who are participating in the Bangladesh Premier League (BPL), for just a few hours as they have to return for BPL. This is also to squash rumours that some of the players will be playing in the Pakistan Super League (PSL) and not in the MCL," Mr. Shah added.
Masters Champions League has got approval from International Cricket Council to runs such kind of tournament from the ex-cricketers as it's a private league. Grand Midwest Sports are the owners and organizers of MCL. GM Sports have signed 10-years contract with Emirates Cricket Board to hold the competition in UAE.