22 year-old Australian pace bowler Pat Cummins has said he is doubtful for the next year's T20 world cup in India. He mentions that there is an outside chance for him to be a part of Australia's squad for the prestigious ICC wt20 championship.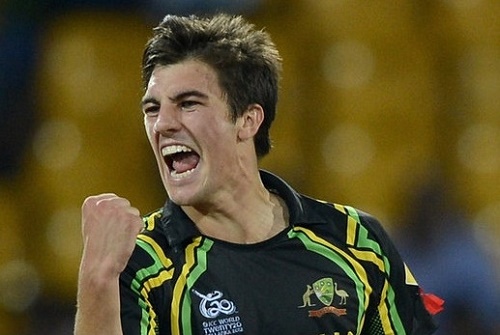 Cummins said to cricket.com.au, "I'd love to be back for it but it's probably an outside chance, the main thing is just to not rush anything if it's at risk of coming back. I think the T20 World Cup might be a little too tight at the moment, I'd probably have to rush back for that."
Pat Cummins has been recovering from lower lumbar bone stress fracture which he got during Australia's Qantas Tour of the British Isles. He said that he is eager to get back in the side as Mitchell Johnson has already announced the retirement and somebody has to come forward to take responsibility as a leading bowler.
"It's really disappointing (to not be available for selection), with Mitchell Johnson retiring a couple of weeks ago it's another chance for somebody to step up. Obviously I would've liked it to be me but it's great that we have depth and a few new guys coming into the squad, hopefully that'll be me in a few months' time," he added.
Pat Cummins also mentions that he is working hard to get back on the field. As per the reports, he is trying to represent Australia in wt20 but still couple of months are required to get fitness. Cummins will miss all Australian summer and KFC Big Bash T20.
He said, "I'm just over two months in to a pretty lengthy recovery for my back, hopefully early next year I'll be right to go. It's all on track, there's nothing to worry about but it just takes a bit of time. Immediately it's been strength work and Pilates, but it's also about rest and making sure the bone heals and then the next couple of months are fine tuning a few things but nothing too drastic."
The sixth edition of twenty20 world cup is scheduled to hold between 11 March and 3 April in India. Australia have never won ICC world T20 and will be looking to claim the trophy next year for sure.