One of the biggest matches ahead of ICC World Twenty20 2016 is Micromax Asia Cup final which is going to be played on 6th March in Shere Bangla Stadium in Mirpur. It's a surprising Asia Cup final fixture as nobody would have thought before starting the tournament that Bangladesh would reach to the final. Obviously India was expected to be there in the final and they are in it in the style.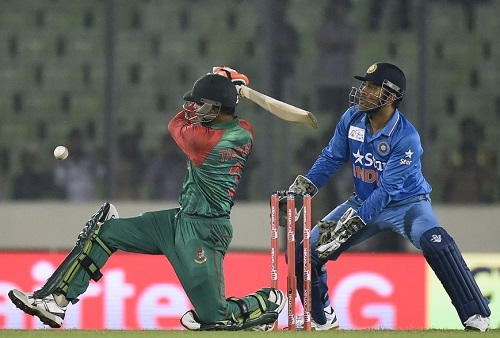 This is the first occasion when Indian team will be up against Bangladesh in Asia Cup final as previously India met Sri Lanka in asia cup finals 1988, 1990, 1995, 1997, 2004, 2008 and 2010. However Men in Blue won five asia cup trophies over the years but Bangladesh are struggling to become champions of the tournament.
This is the second time when Bangladesh has qualified to reach to the final of Asia Cup as in 2012 they were runner up in the competition. That time, Pakistan defeated them by 2 runs. Hence they'll be eager to win this 13th edition of Asia Cup to claim their first trophy ever.
Related: How Bangladesh reached to Asia Cup final
Bangladesh have done really great in this Micromax Asia Cup as they defeated Pakistan and Sri Lanka successfully in this competition to get into the finals. It was a team performance from tigers that led them into their second asia cup final appearance.
On the other hand, Indian team is in great form and in played their last 10 t20s they lost just 1 single match. It's 90% winning percentage for Men in Blue in 2016 year and in this competition they haven't lost single game and maintaining a 100% winning record.
Related: India beat SL to be in Asia Cup final
It will be an interesting battle between these two Asian teams. Star Sports will be broadcasting the live cricket match online and on television from 6:00 PM IST.